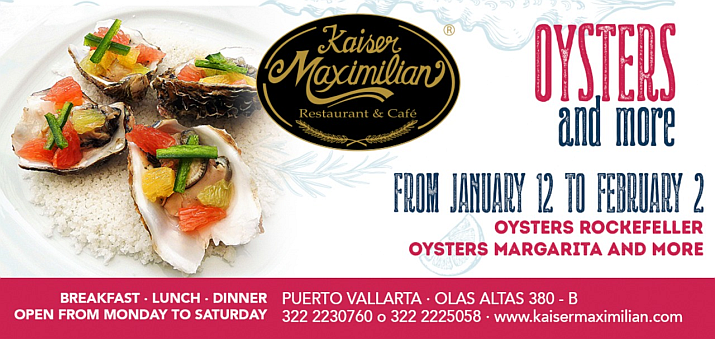 Puerto Vallarta, Mexico – Best-known for serving Puerto Vallarta residents and visitors exceptional Austrian fare, Kaiser Maximilian invites you to dive in to the special 'Oysters and More' menu, which is being served, along with the restaurant's regular menu, through February 2, 2023.
Can't resist fresh oysters? Neither can Executive Chef Juan Carlos Palomera, who has combined the flavors of Kaiser Maximilian with fresh-shucked Cultivated Oysters flown in from Ensenada to create mouth-watering dishes that shine a spotlight on these little gems of the sea, including:
• Oysters Rockefeller Ensenada-style, with Spinach and Cheese
• Oysters Margarita with Tequila and Citrus Fruits
• Oysters with Cucumber & Caviar
(4 oysters per portion)
Not an oyster fan? Along with the many variations of mollusk dishes, Juan Carlos has used his expertise, along with fresh local ingredients, to create dishes that will please even the most particular palate.
Starters
• Langoustine and Crawfish Bisque
• Chicken and Mushroom Ragout with Puff Pastry
Main Course
• Pork Chop with nut chutney, sweet potatoes and sauteed cabbage
No matter which dish you choose, at Kaiser Maximilian, every meal is created and masterfully plated to awe you with every bite.
The 'Oysters and More' menu is served from noon to 11 pm at Espresso Bar and 6 to 11 pm in the restaurant's main dining room. Since the oysters are flown in fresh from Ensenada, supplies are limited, so you might want to call the restaurant in advance to ensure that they are being served when you plan to dive in to the special 'Oysters and More' menu.
Whether dining al fresco at the European-style sidewalk café tables, or in the intimate air-conditioned dining room, you'll enjoy the fabulous cuisine, professional service & elegant atmosphere that have made Kaiser Maximilian a top spot for fine dining in Puerto Vallarta.

Open Monday-Saturday from 8 am to 11 pm for breakfast, lunch and dinner, Kaiser Maximilian Restaurant & Cafe is located at Olas Altas #38B in the Zona Romántica of Puerto Vallarta. For reservations call (322) 223-0760 or visit KaiserMaximilian.com