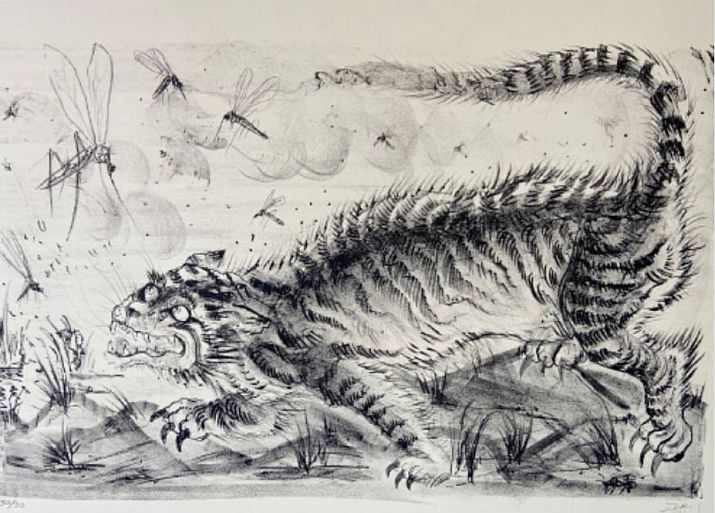 Puerto Vallarta, Mexico – The Office of Cultural Projects is honored to present P/P: Collective Practices in Contemporary Graphics. This exhibition establishes a dialogue among eight workshops located in Oaxaca, Mexico City, Los Angeles, Guadalajara, and Puerto Vallarta. With P/P — a nomenclature that refers to graphic workshop proof prints — the art of these spaces is emphasized through production, innovation, and the teaching of graphic arts.
For many reasons, we can say that Mexico is a graphic country; since the Spanish conquest, the world that was imposed upon us brought many of its references in engravings. After the conquest and for centuries, we got to know European cities, their landscapes, cultures, animals, and vegetation through engravings.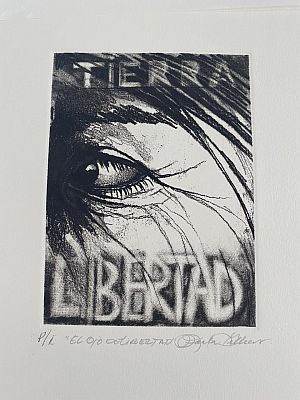 Many centuries later, in independent Mexico and in the post-revolutionary era, true modern Mexican art was born with the muralist movement and the Mexican school of painting. Its most distinguished creators made the graphic work of José Guadalupe Posada the aesthetic reference that resolved a Mexican visual identity in their creations.
The workshops featured in this exhibition are part of an immense activity in this field, with dozens of workshops that have traced their history as crossroads of various artistic styles, witnessing the transformations in the history of our art through their presses.
The exhibition features works by artists such as Ed Ruscha, Kiki Smith, Francisco Toledo, Dr. Lakra, Barbara Carrasco, Gil Garea, Jan Hendrix, Vicente Rojo, Francesco Siqueiros, Rubén Ortiz Torres, Demián Flores, Mónica Leyva, to name a few of the 61 artists in this exhibition. The participating workshops are: Grafica Bordes (Mexico City), Blackstone (Mexico City), La Buena Impresión A.C. (Oaxaca), La Curtiduría (Oaxaca), El Nopal Press (Los Angeles), Pacto Ediciones (Guadalajara), Taller La Raya (Puerto Vallarta), and Taller Sangfer (Oaxaca).
it is important to note that this is not just another exhibition, but rather a call to reopen Taller La Raya in Puerto Vallarta, the printmaking workshop that was founded two decades ago and that has been closed since the passing of Hurricane Nora in 2021.
Artists included in the exhibition: Fernando Aceves Humana, Gilberto Aceves Navarro, Arthur Aeschbascher, Daniel Alcalá, Ruth Álvarez, Javier Arjona, Gustavo Artigas, Daniel Barraza, Javier Barrios, Iván Bautista, Davis Birks, Pilar Bordes, Anita Bunn, Francisco Castro Leñero, Barbara Carrasco, María Estela Eleuterio Carrillo, Dulce Chacón, Alejandro Colunga, Taka Fernández, Demián Flores, Sebastián Fund, Gil Garea, Marta Gilbert, Pere Greenham, Ismael Guardado, Jan Hendrix, Rogelio Hernández, Sergio Hernández, Patricia Lagarde, Dr.Lakra, Mónica Leyva, Eduardo López, Oso LC, Isis Martorell Vázquez, Jorge Méndez Blake, Luis Moro, Amor Muñoz, Sergio Martínez, Ramón Medina Bautista, Sergio Navajas, Paul Nevin, Rubén Ortiz Torres, Miguel Pérez, Javiera Pintocanales, Bernardo Porraz, Darío Ramírez, Joao Rodríguez, Vicente Rojo, Daniel Ruanova, Ed Ruscha, Fernando Sandoval, Fernando Sánchez, Nunik Sauret, Francesco Siqueiros, Kiki Smith, Francisco Toledo, Ireri Topete, Roberto Turnbull, Antonio Turok, Lorena Velázquez, Carlos Zerpa.
OPC would like to express its gratitude to the Barlow family for their generous donation of the use of the building, to William Hobi for his ongoing support, as well as to the OPC board of trustees, our collaborators, and sponsors, including the Vallartense Institute of Culture, Tequila 1800, PV Shares, Hotel Belmar, and Hotel Villa Mercedes.

Located at Juarez #598 at the corner of Aldama in downtown Puerto Vallarta, the Oficina de Proyectos Culturales (Office for Cultural Projects, or OPC) is an independent, non-profit organization dedicated to promoting dialogue through exhibitions, roundtable discussions, public art, and arts education programs. OPC collaborates with artists, architects, curators, academics, and writers who generate ideas that shape our understanding of the city and a cultural landscape connected to Puerto Vallarta but with a global reach. It was established with the intention of contributing to the reflection on the contemporary socio-cultural and artistic environment, and with the mission of sharing with Puerto Vallarta and its visitors. For more info visit the website or Facebook page.