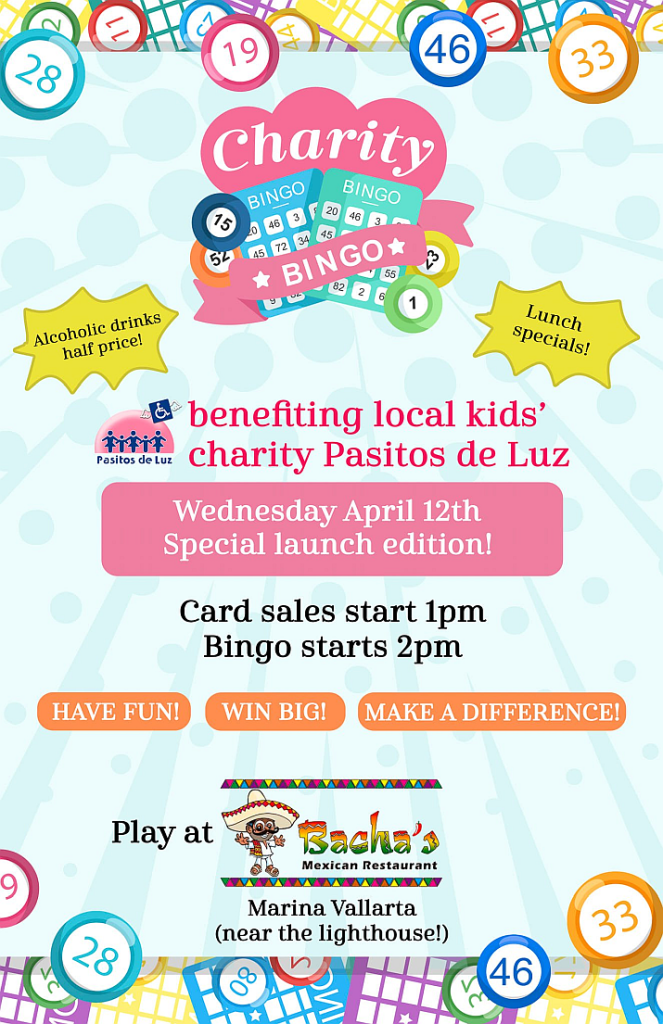 Puerto Vallarta, Jalisco, Mexico – Charity Bingo benefiting the children of Pasitos de Luz is back! Have fun, win big and make a difference! Join us on Wednesday April 12th for a special LAUNCH EDITION at our brand new venue, Bacha's Restaurant Puerto Vallarta, with fabulous views across Marina Vallarta.
Get your package of eight games, including the exciting 50/50 Blackout, for $300 pesos. Take home great prizes, win in our raffles and have fun with friends and family. Bacha's lunch specials and half-price alcoholic drinks will be available throughout the afternoon, from 1:00-4:30 pm.
One hundred percent of all monies raised from the games will help support Pasitos de Luz, a non-profit organization dedicated to serving neurologically handicapped children from economically disadvantaged homes in the Puerto Vallarta area.
See you Wednesday! Charity Bingo then returns in November, running through April.
Bacha's Restaurant is located at Paseo de la Marina 245 #113, in Marina Vallarta. For more information, call 322-221-3506 or visit restaurantebachas.com.mx.

Located north of Puerto Vallarta near San Vicente, Nayarit, Pasitos de Luz is a marvelous day care facility for children with special needs. This non-profit organization provides children with various handicaps with a caring and loving environment, along with treatment for individual rehabilitation, nutritional meals, physical stimulation and therapy. For more information, Click HERE or visit PasitosDeLuz.org.