Puerto Vallarta, Mexico – Envision yourself sitting with friends in a fabulous venue, watching a great fashion show, enjoying a well-crafted 3 course meal and helping a worthy cause… Here is your chance to have a great time and help the disabled children of Pasitos de Luz get needed care, sustenance and therapies so they can become the best that they can be!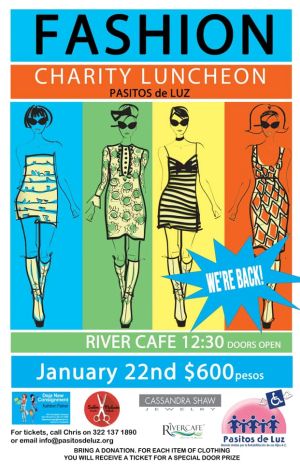 After last year's event was cancelled due to Covid, Deja New's Kathleen Palmer is back for a Fashion Charity Luncheon at The River Café with all proceeds going to Pasitos de Luz, which provides full-time, loving day care, nutrition and therapy to children with acute physical or psychological illnesses at NO COST to their families. Please help us sell-out again!
This fun-filled event will take place on Saturday, January 22 at 12:30 pm at The River Café. You'll enjoy an appetizer, lunch, and dessert with coffee, while models from all walks of life, ages, ethnicities, and sizes walk up to your table and showcase how to put your best fashion foot forward and make a fashion statement, all for just 600 Pesos, including tax & tip.
This fabulous event also includes door prizes, raffles, a silent auction and a 50/50 raffle. In addition to the door prize given to those who enter their name on their luncheon tickets, you can get tickets for an extra door prize by donating gently used clothing. One ticket will be given for every clothing item donated. If you are in Puerto Vallarta, you can drop clothes off at Deja New beforehand and get your door prize tickets there, or you can bring your gently-used clothes to the event. Among the amazing prize opportunities are gift certificates and items from some of the best businesses in Puerto Vallarta.
Tickets are AVAILABLE NOW at Deja New, Salon Malécon, Cassandra Shaw Jewelry, Nacho Daddy and The River Café. This event always sells out, and this year seating will be limited, so, if you want to secure your ticket, send Kathleen Palmer a message TODAY to get on the list.
All Fashion Charity Luncheon proceeds will go to the Pasitos de Luz children at Casa Connor. Pasitos is a registered non-profit charity that provides a lifeline for more than 130 families. The children they serve come largely from impoverished families and suffer from acute physical and/or psychological disabilities. They offer a large range of services free of charge, including physical therapy, psychological care, nutrition and wellness, education programs and more.

Located north of Puerto Vallarta near San Vicente, Nayarit, Pasitos de Luz is a marvelous day care facility for children with special needs. This non-profit organization provides children with various handicaps with a caring and loving environment, along with treatment for individual rehabilitation, nutritional meals, physical stimulation and therapy.
For more information, Click HERE or visit PasitosDeLuz.org.