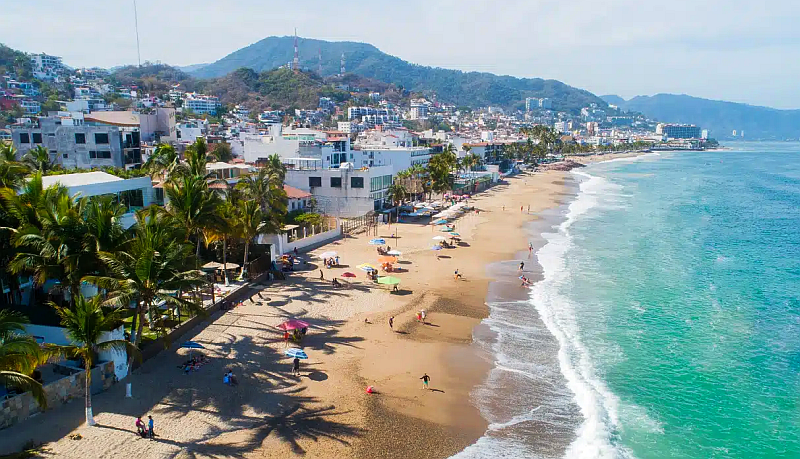 Mexico leads in popularity for Americans looking for a little fun in the sun this holiday season. It is the only country that has three destinations on the Allianz Partners' list of the 10 favorite places for US tourists to visit this winter: Cancun (1st), Los Cabos (2nd) and Puerto Vallarta (5th).
The Mexican beaches of Cancun and San José del Cabo are, once again, the two international destinations preferred by United States tourists for the end-of-year holiday season, according to a survey carried out by Allianz Partners, a world leader in travel services.
Said study, titled "USA's Top 10 Holiday Destinations," consisted of the analysis of more than 2.8 million flight itineraries of American tourists who plan to travel between December 17 and 29, 2022. This report showed that, in general, searches for vacation plans increased by 17% compared to 2021.
As a result of this analysis, Allianz Partners revealed that 11% of US travelers plan to make international trips during this last month of the year. In this context, Mexico, for the second consecutive winter vacation season, is positioned as a leader in attracting the largest number of American visitors. It is the only country that has three destinations on the list of the ten most popular sites for US tourism.
Great interest in destinations in Mexico
In first place is Cancun, followed by Los Cabos (#2) and in fifth place is Puerto Vallarta. The rest of the favorite destinations for American travelers are London, Montego Bay, Nassau, Punta Cana, Oranjestad, Providenciales and Paris.
This panorama shows the great dynamism of the international air market between Mexico and the United States. According to the Mexico Ministry of Tourism, in the first nine months of 2022 the arrival of American visitors by air has increased by 36%, compared to the same period of 2021, totaling close to 10 million tourists.
"We see great interest in traveling again, but we also notice that the profile of travelers is much more aware, demanding and cautious to avoid unforeseen events ruining their vacations. For this reason, travel assistance is more valid than ever. We accompany vacationers at all times to resolve eventualities such as flight cancellations, lost luggage, accidents or illnesses," stated Roberto González Galindo, General Director of Allianz Partners Mexico.
"With travel assistance, people only have to worry about enjoying themselves, we are their best partner and ally," he added.
Source: Diario de Vallarta