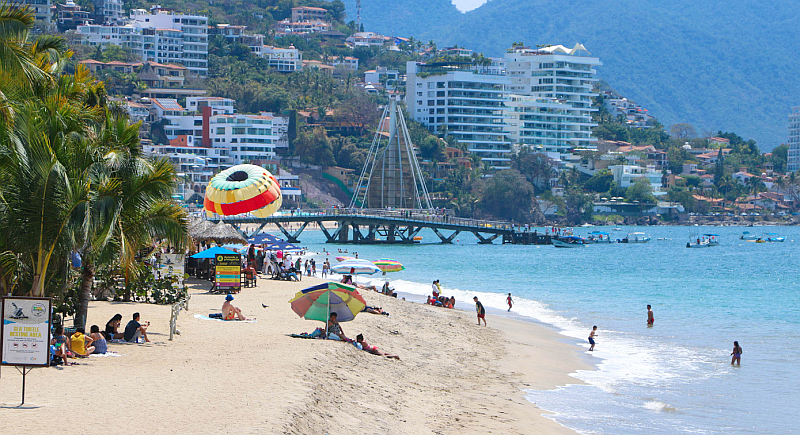 Puerto Vallarta, Jalisco, Mexico – The two-week-long Easter holiday period closed in Puerto Vallarta with record figures that exceeded pre-pandemic levels, both in hotel occupancy and in historic revenues, making it the leading beach destinations in the country, according to the president of Canaco Servitur, Carlos Gabriel López Aranda.
He added that, since 2022, this destination has not only shown a clear recovery after the crisis in tourism due to the coronavirus pandemic, but it is also setting records in the indicators of tourist and economic flows among service providers.
López Aranda reminded that there were more than two million passengers at the Puerto Vallarta international airport in the first quarter of 2023. He added that in the first week of this month the airport received more than 220,000 passengers, between arrivals and departures, which represents 17 percent more than in 2022, with 2,327 total operations, 1% more than in 2022.
According to Datatur figures, last year, the two-week-long Easter holiday period generated an economic income of 1,545,000 pesos, an increase of 20% compared to the same period of 2019 (pre-pandemic figures).
During this period, Puerto Vallarta received an influx of 247,000 tourists, which represented an increase of 21% compared to the same period in 2019. The average occupancy of this holiday period in the destination was 82.7%, according to reports from the Jalisco Secretary of Tourism.
Though the final figures for the 2023 Easter holidays have not yet been tallied, the president of Canaco Servitur indicated that the massive arrival of tourists that occurred during Holy Week left a large economic spillover among both tourism service and lodging providers.
This will be added to what was generated during Easter week, when Puerto Vallarta welcomed visitors with greater purchasing power.
Source: Contra Línea