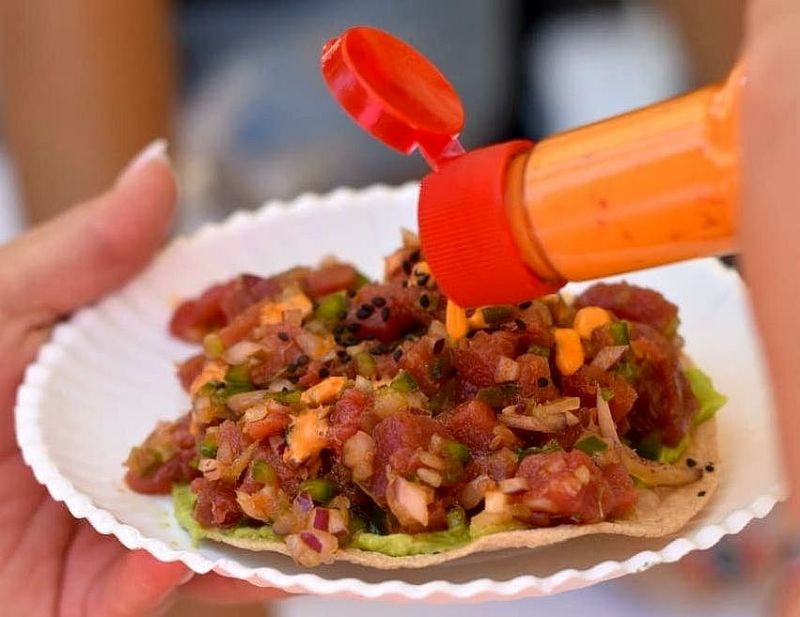 Puerto Vallarta, Jalisco, Mexico – Twelve Puerto Vallarta seafood restaurants are busy preparing to serve the hundreds of residents and visitors expected to attend the Eleventh Edition of the Festival del Ceviche y Aguachile, which is set to take place from 12:00 to 7:00 pm on Sunday, January 30, 2022 at Lazaro Cardenas Park.
Everyone is invited to come out and discover the many different styles of two of the city's most traditional dishes, Ceviche & Aguachile, at very reasonable prices.
A traditional Mexican dish, Ceviche is a concoction of fresh fish or shrimp "cooked" (marinated) in lime juice with tomatoes, onions and green chilies. But the Puerto Vallarta recipe is a little different than what you'll typically find in other regions. In the Banderas Bay area, carrots, cucumber, cilantro, and other ingredients are often added to the mix.
The second traditional dish that participating restaurants will be offering is Aguachile. Similar to Ceviche, the most classic version is made with fresh raw shrimp, cucumber, red onion, lime juice, and chiles (typically serranos or jalapeños) that have been pulverized with some water – hence the name. It's usually served with avocado and tostadas, along with beer and tequila.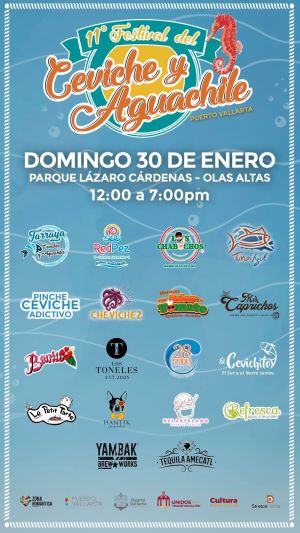 During the festival, both specialties will be served on tostadas, and you can sample 40 different varieties, along with other seafood specialties prepared by local restaurants, including:
Tarraya · Ceviches y Aguachiles
RedPez · Comida de Mar
Los Chabochos · Mariscos, Tacos & Más
Tuna Azul
Pinche Ceviche Adictivo
Chevichez
Mariscos con Sabor a Tomate
Mis Caprichos · Cocina del Puerto y Algo Más
Bonito
Los Toneles
28 Grados
El Cevichito · El Sur y Norte Juntos
To complement the fabulous food, there will also be refreshing drinks typical of the region, specialty cocktails prepared with Mexican distillates, ice-cold local craft beers, delicious desserts and more available for purchase.
Puerto Vallarta is renowned for its international cuisine and variety of flavors, and this festival is sponsored by the Municipal Tourism Department and the Vallarta Institute of Culture in an effort to promote the local food culture and the different flavors that our talented chefs offer visitors.
Make plans now to come out to Lazaro Cardenas Park on Sunday, January 30, for the Eleventh Festival del Ceviche y Aguachile. Admission is free. Remember to bring your face mask. All Covid-19 protocols will be in place, including assigned entry and exit areas.
For more information, visit the Facebook event page.