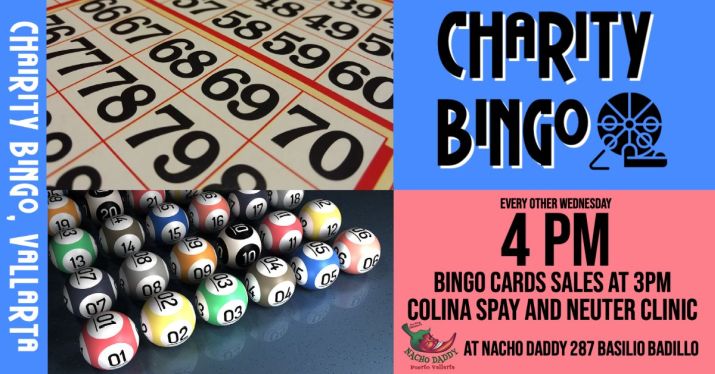 Puerto Vallarta, Mexico – If you are looking for some COOL Summer fun, head over to Nacho Daddy Restaurant & Bar every other Wednesday at 3 pm, to enjoy AIR CONDITIONING, great food & drink specials and fabulous prizes, while playing Charity BINGO to benefit the Colina Spay and Neuter Clinic.
A permanent facility in the Old Town/Romantic Zone of Puerto Vallarta, the Colina Spay Neuter Clinic provides spaying and neutering services for cats and dogs. Services are offered free to those who otherwise would be unable to get their pets neutered. Colette, the owner of Langostinos Restaurant, and Sabrina, the owner of Ruelas Property Management, teamed up in March of 2012 to open Puerto Vallarta's first stationary, free animal spay and neuter clinic. Learn more about Colina Spay and Neuter Clinic on Facebook.
Normally played only during the 'high season,' Nacho Daddy's Puerto Vallarta Charity BINGO is so much fun that people have been begging for more, so come on out and CHILL for a few hours – for a good cause!
Seven three-card regular games cost $100 pesos, or you can buy a VIP Bingo package for $300 pesos, which includes not only cards for all the games but also the final Cash Blackout game, which pays the winner half of the cash in "the pot," and 5 Raffle tickets.
No matter which game package you choose, you can buy as many extra cards as you want (at 3 for $100 pesos) for the Cash Blackout game to increase your odds of winning the Big Bucks! Previous winners received incredible cash prizes that ran up to $4500 pesos in cash!
To help round out the spirit of the games, Nacho Daddy offers Bingo players a variety of food and drink specials from their yummy menu, so come out, support a good cause and enjoy an afternoon of fun and fantastic prizes at Nacho Daddy, where locals, ex-pats and tourists from across the globe gather to drink, eat, dance, listen to great music, watch football and have a rip-roaring good time!
Cards go on sale at 3:00 and the games begin at 4:00 pm.

Open daily from 11 am to 12 am for lunch, dinner, live music and lots of fun, this popular south side hangout is located at Basilio Badillo #287, only two blocks off the beach in the heart of the Romantic Zone. Credit cards accepted. For more information, visit NachoDaddy.mx or become a fan on their Facebook Page for promotions, daily specials and more.
Click HERE to learn more about Nacho Daddy Mexico Restaurant & Sports Bar.