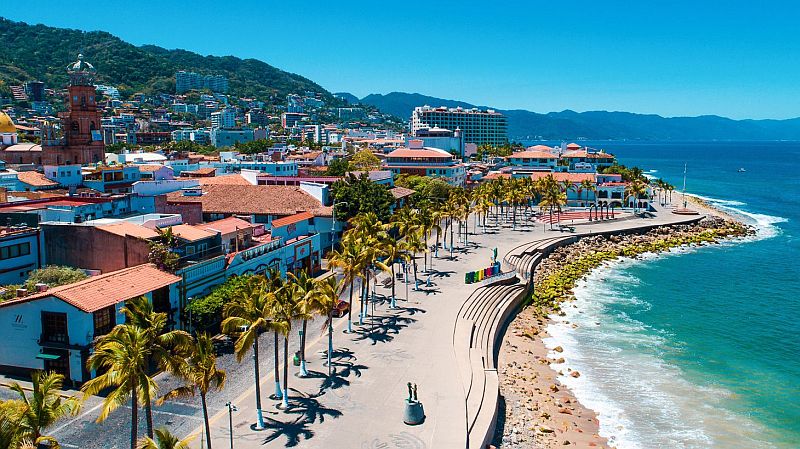 Puerto Vallarta, a renowned beach vacation destination in Mexico and worldwide, has received several prestigious nominations for the 2023 Travvy Awards. These accolades serve as a testament to the city's exceptional tourist offerings and its dedication to providing memorable experiences to all travelers.
The Travvy Awards are considered one of the most prestigious awards within the travel and tourism industry. Also known as the industry's "Oscar Awards", the Travvy Awards annually recognize the most outstanding leaders in destinations, hotels, cruise lines, tour operators and travel agencies.
The 2023 nominations for Puerto Vallarta by the Travvy Awards editorial team are as follows:
BEST DESTINATION – MEXICO
With its stunning beaches, vibrant culture, and breathtaking natural beauty, Puerto Vallarta has earned a nomination for the Best Destination in Mexico. This recognition reflects the allure of the "World's Friendliest City," showcasing its historic downtown charm, diverse outdoor activities and adventures, and thriving arts and cultural scene.
BEST HONEYMOON DESTINATION – MEXICO
Couples seeking a romantic getaway find Puerto Vallarta a perfect destination. Nominated as the Best Honeymoon Destination in Mexico, the city's romantic sunsets, luxurious resorts, and tranquil atmosphere promise an unforgettable start to a lifetime journey together.
BEST GASTRONOMIC DESTINATION – MEXICO
Food enthusiasts rejoice in Puerto Vallarta's vibrant culinary scene, a reflection of Mexico's rich cultural heritage and natural abundance. Ranked as the second most important gastronomic destination in Mexico, the city proudly hosts prestigious festivals celebrating its diverse and flavorful cuisine.
BEST DESTINATION FOR WEDDINGS
Aspiring to create dream weddings, Puerto Vallarta has been nominated as the Best Wedding Destination in the World. Its picturesque locations, beautiful beaches, and top-notch wedding services ensure couples a truly memorable celebration amidst the city's romantic ambiance and stunning natural settings.
BEST DESTINATION FOR WEDDINGS – MEXICO
In addition to its global nomination, Puerto Vallarta is also recognized as one of the Best Destinations for Weddings in Mexico. This acknowledgment further highlights the city's commitment to delivering exceptional beach wedding experiences, whether for intimate ceremonies or grand celebrations.
BEST TOURIST OFFICE – MEXICO
The Puerto Vallarta Tourism Trust plays a crucial role in promoting the city's attractions and exceptional experiences. The team's leadership and dedication to showcasing the unique offerings of Puerto Vallarta, fostering collaborations within the tourism industry, and organizing promotional events are honored with a nomination for the Best Tourism Office in Mexico.
BEST ACADEMIC PROGRAM FOR TRAVEL AGENTS
The PV Pro Specialist Program, established by Puerto Vallarta, is recognized for its commitment to professional development in the tourism industry. Nominated for the Best Academic Program for Travel Agents, the city's Tourism Trust ensures travel agents receive comprehensive educational resources and continuous training to design exceptional vacation plans for all types of travelers.
These nominations affirm Puerto Vallarta's status as a leading destination in Mexico, captivating visitors from around the world with its blend of natural beauty, rich culture, and warm hospitality.
At the eighth edition of the 2022 Travvy Awards, held in Fort Lauderdale, Florida, Puerto Vallarta won in five of the six nominated categories. These included: Best Dining Destination in Mexico (Silver Award), Best Tourism Office (Bronze Award), Best Destination in Mexico (Bronze Award), Best Wedding Destination (Bronze Award) and Best Honeymoon Destination (Bronze Award).
Visit the Travvy Awards website until September 30 to vote for Puerto Vallarta. Winners will be announced at the official awards ceremony to be held on November 2, 2023 at the Greater Fort Lauderdale Convention Center in Fort Lauderdale, Florida.