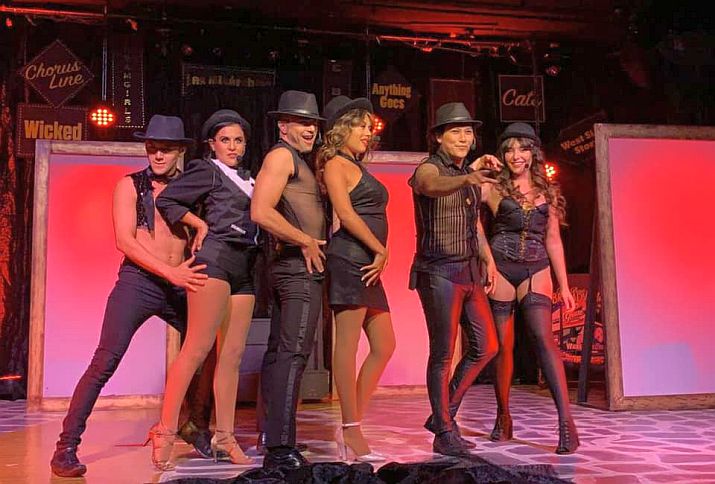 Puerto Vallarta, Mexico – The Best of Broadway opened for its third season at Act2PV on Wednesday, October 20, and it is bigger and better than ever! The audience loved this fantastic musical revue, giving it an almost two-minute-long standing ovation on opening night. Find out why every Wednesday and Friday night at 7:00 pm.
BEST OF BROADWAY (Main Stage)
A musical revue of favorite Broadway shows
Wednesdays & Fridays – 7:00 pm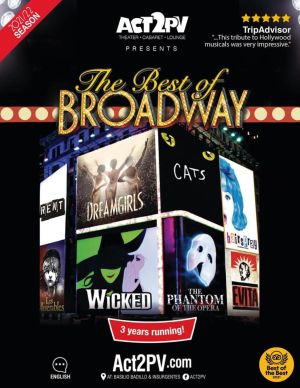 Act2PV has developed a great reputation for its popular musical revues each year, and the season just wouldn't be the same without one! Managing partner, Danny Mininni, has always had a dream of creating a Broadway musical revue, and his dream has finally come true!
Everyone at Act2PV is thrilled to welcome six amazing performers in its "Best of Broadway" musical revue: Daniela Treviño (star of "Reflections"), Brenda Gaviño (star of "Linda Ronstadt: In My Voice"), Marc Lopez, (star of "Crooners and Legends"), and Victor Do Esperito, (star of "Don't Stop Believin'" and "Bruno Mars"). New to the cast this year is Ximena Peña Esparza, currently playing "Sophie" in Act2PV's hit musical, Mamma Mia, and Edgar Roman, Act2PV's incredibly talented choreographer.
Produced by Act2PV and directed by Danny Mininni, "The "Best of Broadway" showcases favorite songs from A Chorus Line, Grease, Dream Girls, Funny Girl, Les Miserables, Wicked, Cats, Sound of Music and many more! Featuring incredible dancing, creative set designs, gorgeous costumes, and beautiful choral harmonies, duets, solos, and mini vignettes, each song sparkles with pure Broadway brilliance! This show is great for all ages and is a must-see in Puerto Vallarta!
Tickets are available at act2pv.com.
Five-Star TripAdvisor Reviews
"Broadway – I just saw this show for the first time last night and WOW!!! Am I in Puerto Vallarta or am I in New York City? The cast was INCREDIBLE! it's possibly one of my new favorite shows EVER and I don't really care for Broadway! Marc Lopez, Brenda, Daniela, Victor and Ximena all blew me away! Now let me be honest, the last Broadway show I actually saw was The Lion King which was on Broadway in New York, and guess what? I fell asleep! I was bored. But this show felt captivating and ALIVE! This show forces you to love Broadway even if you know none of the songs because the talent is just that damn good! There is a moment where the cast sings together while seated without music….and my GOD…..the harmony was angel like. I didn't know whether to scream or cry…so I just clapped until my hands turned red because they all deserved so much more than just my applause and smile."
"Best of Broadway is definitely the best. We were entertained and engaged throughout the entire performance. The show highlights the best songs from a variety of Broadway hits. The 4 performers sang hit after hit in perfect harmony."
"We saw the Best of Broadway. The shows are well produced in every aspect and the venue was clean with every effort to comply with COVID concerns. The 4 performers were all great with each one having at least one solo to really showcase their skills. The songs were a perfect smattering of great Broadway songs. Nothing to complain about and much to enjoy."
Tickets to all shows are available at act2pv.com, or at the box office, which is open from 4:00-10:00 pm daily.

The Act2PV Entertainment complex is located on the corner of Insurgentes and Basilio Badillo on the South side of Puerto Vallarta. For more information, call (322) 222-1512, or follow Act II on Facebook.