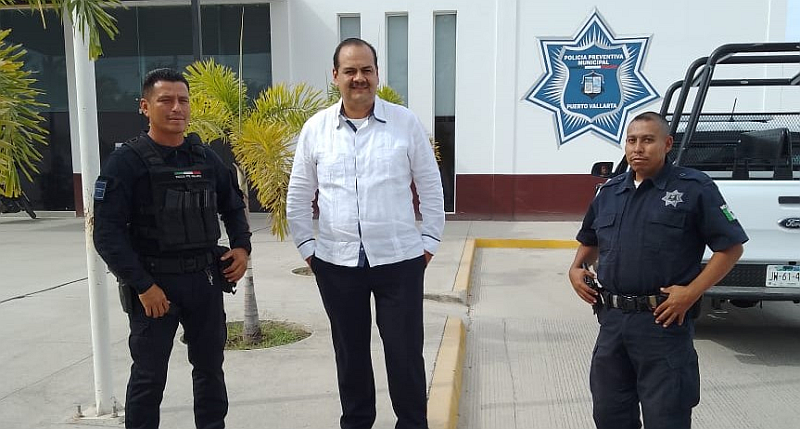 Puerto Vallarta, Mexico – On January 16, Puerto Vallarta Mayor Professor Luis Alberto Michel Rodríguez officially appointed Rigoberto Flores Parra as the new Police Commissioner (Comisario de la Dirección de Seguridad Ciudadana y Vialidad Municipal) after Mexican Navy frigate captain Eloy Girón Alcuria completed his term as the head of this corporation.
The mayor gave instructions to Flores Parra who, in his capacity as Commissioner, will assume the responsibility of surveillance and prevention tasks throughout the city, and ensure that the police force continues with a vision of social proximity and respect for the human rights of all citizens.
He said that the time had come for Puerto Vallarta to resume having a police force that is purely civilian, citing the recognition it has at the national level as one of the safest cities in the country.
"I think Vallarta is ready. We already have the equipment, we bought new units last summer, and policemen who have graduated from the security academy and are now qualified to serve. Two classes of cadets have already graduated, one with 38 elements and one with 31, and another will complete the training in February. This will add more than 100 new police officers to reinforce the work of the Citizen Security Directorate and replace the sailors who were conducting patrols and surveillance in coordination with the police force."
Profe Michel also recognized the commitment and work carried out by Eloy Girón during the time he was in charge of this department, saying that the naval officer delivered good results.
It should be noted that Rigoberto Flores Parra is a lawyer who has been part of the Citizen Security Directorate for several years. Up until Monday, he had been working as Deputy Legal Director, for which reason he said he was ready to continue serving the citizenry in this new assignment and keeping Vallarta safe.