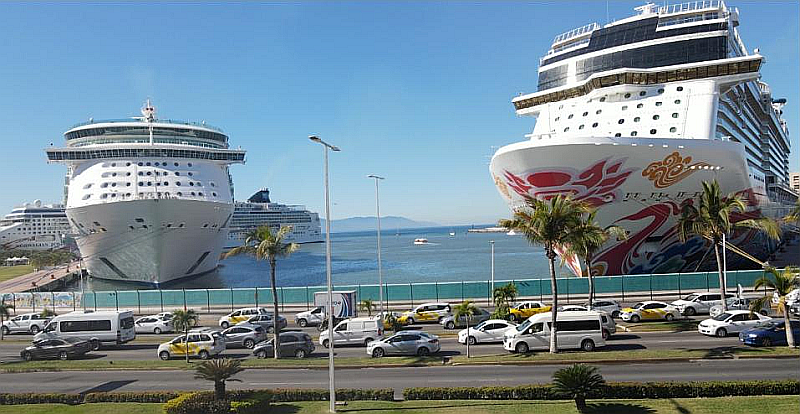 Puerto Vallarta, Mexico – Four of the thirty cruise ships that Puerto Vallarta will welcome this month have already arrived, the first being the Discovery Princess on Monday, which was followed by the first triple arrival of the year (the Norwegian Jewel, the Navigator of the Seas and the Norwegian Joy) on Tuesday.
Of the 30 scheduled arrivals this month, there will be two triple arrivals and nine double arrivals, as well as five arrivals from a single ship – the Carnival Panorama.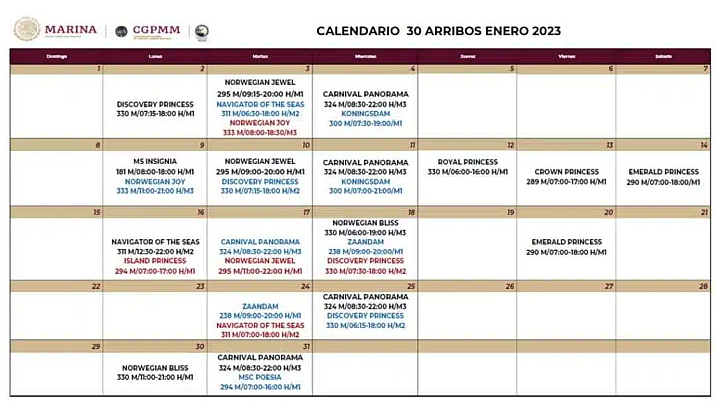 The first double arrival of the month will happen on Wednesday, January 4, with the Carnival Panorama and the Koningsdam calling on our city.
The second week of the month will start with another double arrival, with the MS Insignia and the Norwegian Joy docking on January 9. The double arrivals will continue with the Norwegian Jewel and the Discovery Princess on Tuesday, January 10, and the Carnival Panorama and Koningsdam on Wednesday the 11th. The week will wrap up with the arrival of the Royal Princess on Thursday the 12th, the Crown Princess on the 13th, and the Emerald Princess on the 14th.
For the third week of January, on Monday 16 the Navigator of the Seas and the Island Princess arrive; on Tuesday the 17th the Carnival Panorama and Norwegian Jewel will return. Wednesday the 18th will be the second triple arrival of the month, with the arrival of Norwegian Bliss, the Zaandam and the Discovery Princess. Then, on Friday the 20th, the Emerald Princess will return.
Two double arrivals are on the calendar for the penultimate week, the Zaandam and Navigator of the Seas will arrive on Tuesday the 24th, and the Carnival Panorama and Discovery Princess on the 25th.
To conclude the month, the Norwegian Bliss will arrive on Monday the 30th and the Carnival Panorama and the MS Poesía will visit Puerto Vallarta on January 31st.
The Administration of the National Port System (ASIPONA) has announced that at least 200 cruise ships will arrive at the Puerto Vallarta maritime terminal this year, bringing an estimated 350,000 passengers, and around $42 million dollars to the city.