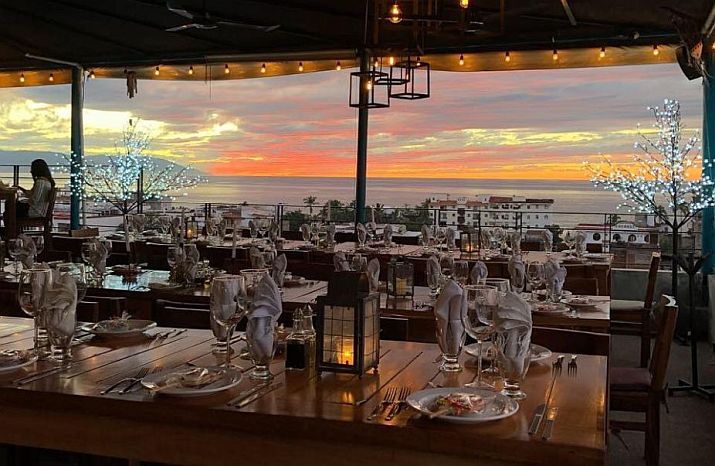 Puerto Vallarta, Mexico – Perched majestically on the fifth floor, this Italian gem in Cinco de Diciembre wowed with its panoramic embrace of the bay and city below, a view that can only be described as a feast for the eyes. It's no wonder the restaurant boasts a whopping 28,000+ admirers on Facebook – the vista alone is worth that many likes! My hopes for a memorable dinner were high.
But alas, as the old saying goes, "You don't eat the view."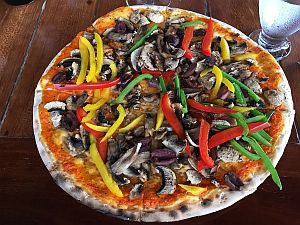 We started with Carpaccio de Res ($165 pesos), which, while elegantly simple, left my taste buds craving more than just greens and shaved parmesan. I then took a bite of my friend's wood-fired Pizza Vegana ($240 pesos). A victim of timing, it must have lingered on the waiter's stand since it arrived with the enthusiasm of a soggy piece of toast. Topped with only mushrooms, bell peppers, and cheese, the pizza's flavor matched its limp demeanor. Since only half of the pizza was eaten, I took it home in hopes of resurrecting it today for lunch with a few additions.
The main event, a Rib-eye Steak (380p) shared with my partner, was a paradox – cooked to medium-rare perfection yet lacking the zesty kick one expects from such a noble cut. The accompanying shrimp (2 tiny ones) and pasta, while buttery, yearned for a dash of something, anything, to elevate them beyond the ordinary. I'll throw in one caveat here and hope that the kitchen was just having a bad night.
In the realm of libations, the martinis were more a tease than a toast, but a hearty glass of Malbec wine provided a solitary high note in this night's culinary symphony. If I ever find myself drawn back by that hypnotic view, I'll likely hedge my bets on a bottle of wine, another appetizer, and the undeniable magic of Puerto Vallarta's night sky.
La Traviata, with its stunning vistas, proves that sometimes the most memorable part of a meal is not on the plate but beyond the window.
I give La Traviata:

C. Honduras 309-5th Floor, 5 de Diciembre, 48350
Open Daily 8 AM-11 PM (Except Monday 2 PM-11 PM)
Reservations: opentable.com.mx
Phone: 322-222-4412
I welcome your comments or suggestions of restaurants to try at TheHungryCriticPV(at)gmail.com.
Click HERE to read more Puerto Vallarta restaurant reviews.