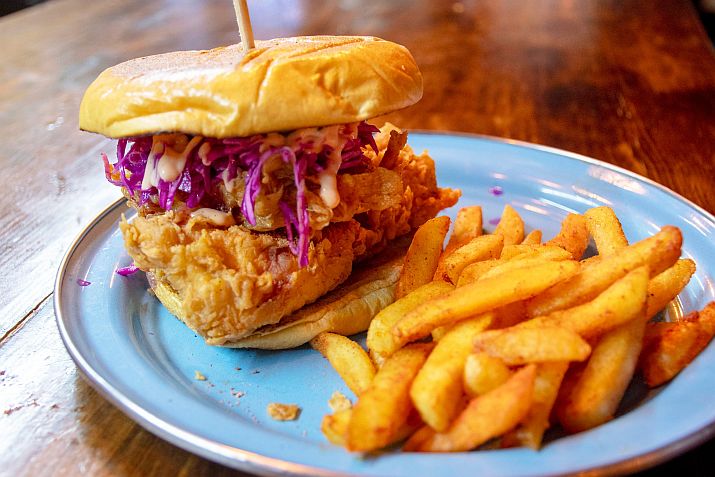 Puerto Vallarta, Mexico – After navigating a challenging week due to family medical matters, my partner and I decided it was high time for some hearty, comforting food. We had heard ravings about Gina Hendrix's restaurant, Whiskey Kitchen, being the go-to place for such cravings, and I now echo the sentiment. As Gina herself puts it, "Our goal is to make you feel at home, relax, laugh a little, and enjoy some food made with heart, especially my Grandma's Fried Chicken."
The restaurant charms with its rustic ambiance, paying homage to honky-tonk juke joints reminiscent of those in Austin, Texas and Nashville, Tennessee. The vibrant original Mexican art pieces, warm décor, and lots of wood strike just the right tone.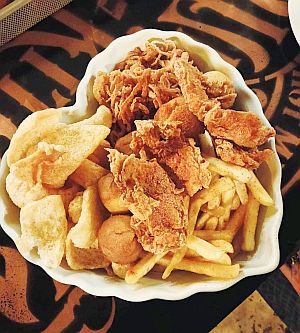 While this might not be the destination for the diet-conscious, it undoubtedly is a haven for comfort food enthusiasts. We dove right in with the Southern Tour Appetizer Platter ($300 pesos), a celebration of all things fried: hushpuppies, chicken tenders, onion rings, French fries, and Cajun pork rinds, accompanied by a tasty array of dipping sauces. Although I thought the pork rinds were a bit ho-hum and unimaginative, I must admit I used them as scoops for a delicious cream gravy.
For my main course, I chose Cora Lee's Mac & Cheese Skillet ($175 pesos), which arguably stands as the best in town. The rich and robust cheese harmoniously melds with crunchy bacon toppings, creating a dish so satisfying I could only manage a third of it, saving the rest for a promising lunch the following day.
My partner opted for the WK Tennessee Torta ($175/295 pesos), going for the smaller portion, which still offered a generous serving of what we assumed to be Grandma's cherished chicken recipe. The sandwich, housing a vibrant array of flavors including cole slaw, a pleasantly spicy comeback salsa, and sweet pickles nestled in a toasted brioche, won his hearty approval.
While I enjoyed a couple of spot-on Old Fashioneds, my partner found the tequila options a bit lacking. Nonetheless, it's evident that Gina has poured her heart into this establishment, creating a space that radiates homey warmth and serving dishes brimming with love and flavor. I recommend heading over to Whiskey Kitchen for a genuinely comforting dining experience — just be prepared to loosen your belt a notch!
I give Whiskey Kitchen:

Av. Francisco Villa 694, La Vena, 48320
Open Daily 10 AM to 10 PM (Closed Monday)
Phone: 322-405-9541
I welcome your comments or suggestions of restaurants to try at TheHungryCriticPV(at)gmail.com.
Click HERE to read more Puerto Vallarta restaurant reviews.