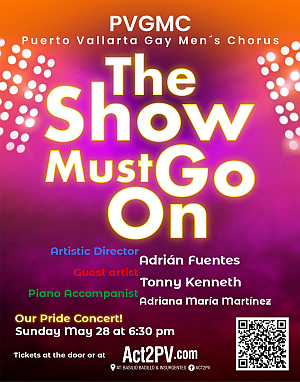 Puerto Vallarta, Mexico – The Puerto Vallarta Gay Men's Chorus is proud to present their Vallarta Pride Concert 'The Show Must Go On' for one night only – Sunday, May 28 at 6:30 pm – at Act2PV.
Led by artistic director Adrián Fuentes and featuring Adriana María Martínez on piano, the concert will be performed in Act2's Danny's Main Stage Playhouse, which provides the perfect atmosphere for the PVGMC's choral harmonies to entertain, enlighten and inspire.
The Puerto Vallarta Gay Men's Chorus (PVGMC) is composed of talented and passionate men who will make your heart sing with their impeccable voices and contagious energy in a night full of music, fun, and pride.
In celebration of Pride, the PVGMC will perform an exciting repertoire that includes some of the most iconic choral songs. They will also welcome guest artist Tonny Kenneth to the stage, who will add his own unique flair to the performance.
The 'The Show Must Go On' concert aims to raise funds for the chorus and will feature an auction and raffle so that you can support them while enjoying the music. Everyone is welcome to join them on this special night that celebrates Vallarta Pride.
Tickets are available on the Act2PV website and at the door for a suggested donation of $700 MXN. Get yours TODAY and get ready for a night full of music, fun, and pride!
The PVGMC brings you the talents of gay men from Mexico, the United States, Canada and around the world who aim to build bridges of understanding, acceptance and love through song. They are warmly embraced by the local Mexican and Ex-Pat community, as well as tourists from many cultures. For more information, visit pvmenschorus.org.