Puerto Vallarta, Mexico – Are you spending Thanksgiving away from home? If so, how would you like to spend it at one of Puerto Vallarta's premiere dining venues? The River Café is the perfect place to get together with friends and family for a holiday meal.
Nestled on the banks of the Rio Cuale in downtown Puerto Vallarta, this elegant restaurant has been delighting diners with the sights and sounds of nature, live music and innovative cuisine since 1996, but on November 28, they'll also be serving a four-course Thanksgiving dinner that will seduce the most passionate foodie.
Thanksgiving Dinner at The River Café
Appetizer
• Amuse Bouche
Soup
• Roasted Butternut Squash Soup with crayfish foam topped with Prosciutto dust
Entreé
• Roasted turkey medallions over mashed potato with cane-smoked apple, cranberry-ginger sauce and gravy
– or –
• Grilled Rack of Lamb over creamy polenta and vegetables with mint-rosemary sauce
Dessert
• Apple and Cinnamon Strudel served with vanilla ice cream and seasonal fruit
The River Café is serving up this special Thanksgiving Dinner Menu from 4:00 to 11:00 pm for just $850 pesos per person. Add to that a creative a la carte menu, live music and the natural ambiance of one of Puerto Vallarta's favorite fine dining restaurant, and the memory of this Thanksgiving celebration will last a lifetime.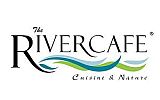 Open daily from 8:00 am to 11:00 pm, The River Café is located at Isla Rio Cuale #4 in downtown Puerto Vallarta. Reservations are recommended and can be made by calling (322) 223-0788 or online at RiverCafe.com.mx.


Click HERE to learn more about The River Café.