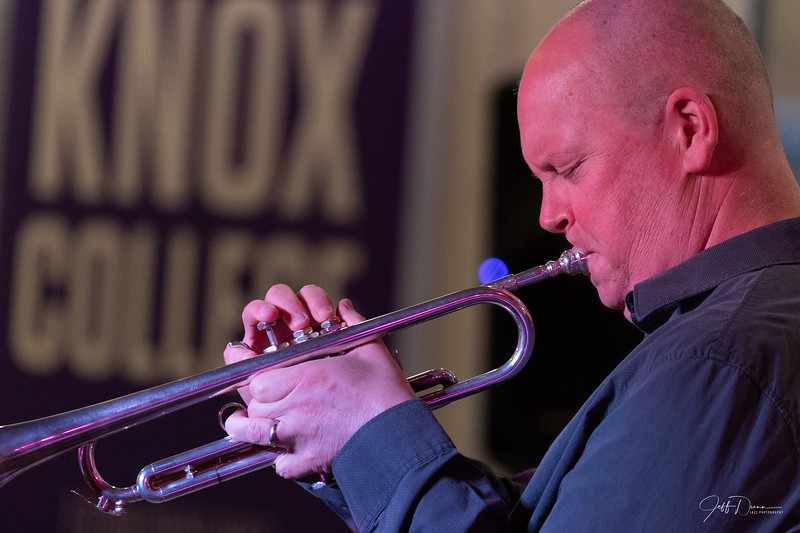 Meet The Jazz Doctor… Conducting 3 More Concerts in 2022
The Salty Paw Jazz Orchestra, the Orquesta Sinfonica Vallarta (OSV) and Instituto de Artes Musicales Puerto Vallarta (I AM PV) are delighted to introduce Dr. Chuck MacKinnon to Puerto Vallarta and the Banderas Bay area.
Chuck earned a Doctorate in Musical Arts with an Emphasis in Jazz Composition from the University of Kansas. He has been conducting the Salty Paw Jazz Orchestra and OSV since the previous conductor, Daniel Oliveros, and his family moved to Monterrey in July 2022.
Under Chuck's direction, the Salty Paw Jazz Orchestra will give a concert on Sunday, November 13, 2022, 4:30 PM at Biblioteca Los Mangos, Francisco Villa 1001, Puerto Vallarta, just a few blocks from Costco and La Comer.
Chuck's work with the ensemble emphasizes developing improvisation skills, especially for young musicians. Some pieces on the program will be Sonnymoon For Two and Tenor Madness by Sonny Rollins, Jobim's Agua de Beber, Freddie Hubbard's Povo, Caballo Viejo by Simon Diaz, Chicago's 25 or 6 to 4, Herbie Hancock's Maiden Voyage, Eddie Harris's Cold Duck Time, Oye Como Va by Jalisco's beloved Carlos Santana, and Icebreaker, composed by Chuck himself!
Vallarta is so lucky to have such a great talent in its midst. Chuck has been heard performing at Arte Museo Vallarta just a few weeks ago. He plays in a duo at Cuates y Cuetes on Monday nights, sunset 6:00 – 8:00 PM on trumpet, electric bass, and EVI (electronic valve instrument). CC's is in the Zona Romantica on the beach, right next to the pier.
Chuck is an accomplished trumpet player and jazz composer with an impressive discography. You can hear Chuck accompany Nora Jones's Thinking About You on YouTube and can hear many of his recordings and compositions through his website, chuckmackinnon.com.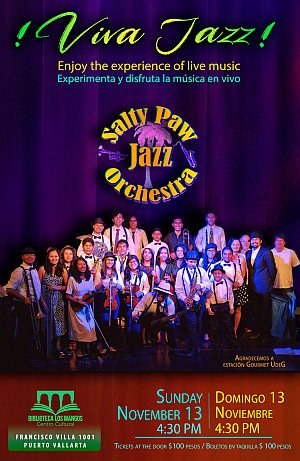 On July 4, 2022, Chuck, his wife, their 6th grade twin sons, a cat and a dog landed in Puerto Vallarta to begin an exciting new life and musical adventure. Chuck hit the ground running and conducted his first Salty Paw concert a few days later, on July 24, at Biblioteca Los Mangos. The Salty Paws – founded in 2016 by Victor Kris – are rehearsing every Saturday afternoon for their concert on Sunday, November 13, 2022, 4:30 PM at Biblioteca Los Mangos, Francisco Villa 1001. Tickets will be only 100 pesos.
If you know anyone interested in playing with the Salty Paw Jazz Orchestra or the classical community orchestra OSV, email andreajupina(at)gmail.com. We really need trumpets, trombones and French horns. Virtually any instrument is welcome – Sax, clarinet, flute, oboe, bassoon, violin, viola, bass, cello, tuba, euphonium, percussion. Rehearsals are once a week on Saturday afternoons.
Be sure to save the date for OSV's annual Christmas concerts. This year will include a choir – and a fundraiser with a silent auction and a 50-50 raffle, which is always fun.
Sunday, December 18, 2022, 7:00 pm at the American School, Calle Albatros 129, next to Plaza Marina.
Monday, December 19, 2022, 7:00 pm at Salon Paraiso, Paseo de los Cocoteros 13, Paradise Village, Nuevo Vallarta, in front of Harkness Institute and next door to Hospital Joya. Salon Paraiso is a really beautiful venue with some of the best acoustics in Banderas Bay.
As always, the Salty Paws, OSV and the Board of IAMPV (a Mexican non-profit asociacion civil) thank and acknowledge Estacion Gourmet UdeG for their excellent support providing a home base, rehearsal space and storage, which is so very helpful and makes all this possible. We deeply appreciate it.
The Vallarta symphony, Salty Paw Jazz Orchestra and affiliated music education programs have been struggling economically in the aftermath of Covid and are seeking corporate sponsorship and charitable contributions. If you wish to make a US TAX FREE DONATION, please go to etina.org/iampv and also send an email to andreajupina(at)gmail.com. Every donation makes a difference and is really appreciated. There's no such thing as a gift that is "too small."
We hope to see you at our concerts. Viva jazz! Viva music!
Andrea Jupina