Puerto Vallarta Cultural Insider Sandra Cesca
tour guide, cultural photographer, author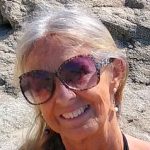 Sandra Cesca has traveled the world, but found herself returning to Mexico more and more. She moved to Puerto Vallarta in 2008 and never looked back. With her love of adventure and immersion in the countries she had visited, she decided to take her experiences and educational M.Ed. background and use them to help visitors learn more about Vallarta and the Mexican culture. Thus was born Puerto Vallarta Walking Tours.
Beginning in 2009, Sandra began offering walking tours to share her excitement and love of this culture with tourists who came to learn more. She mapped out routes, met local artisans, vendors, business owners, and long-standing residents of Vallarta to create her walking tours.
She currently offers eight different walks which include history, architecture, culture, artisanal crafts and ecology. She will also create custom and private walks for those wanting a more personal experience. Two of her walks are wheelchair friendly.
Sandra has become an ambassador for Vallarta as she often spends extra time with visitors answering questions about living and working here, making recommendations for services, restaurants, and activities and inspiring clients as they discover the beauty, charm and friendliness of the people who live and work here.
With her love of photography, she soon began to capture with her camera the rich colors, images and feelings she encountered both during her walking tours and her travels. These photos she uses on her website and social media to help market herself and her businesses. Sandra has also found outlets for her work in the guidebooks she has written, the photo cards she sells, and the Fine Art canvases she is starting to create.
Sandra lives in Puerto Vallarta full-time. Her photos and articles can be found on puertovallartawalkingtours.com; sandracescaphotography.com; Instagram and Facebook. She can be contacted at sandra.learn.vallarta(at)gmail.com; or sandra.cesca.photography(at)gmail.com.