Puerto Vallarta, Mexico – The third edition of 'Tropical Plants of Puerto Vallarta,' a popular guidebook covering the hundreds of plants found in the greater Puerto Vallarta area, is now available. Sandra Cesca, the book's author and photographer, who is also a beloved local tour guide, commented that the 2nd edition of her popular guide book has been out of print for over a year, so she decided to update it during the long days of the pandemic.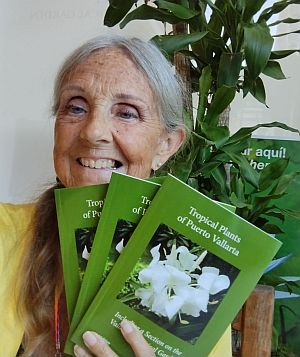 Owners of previous editions of the guidebook will find that this edition has more plants, enhanced photos, and information about local organizations who support plants and their survival, including the Vallarta Botanical Garden, Puerto Vallarta Garden Club, Imperial Bee, and The Palm Ranch.
Filled with almost 300 full color photos and cleverly organized by color for easy plant identification, 'Tropical Plants of Puerto Vallarta' makes the perfect Christmas gift for lovers of plants and Puerto Vallarta alike.
Get yours TODAY at the following locations:
• Vallarta Botanical Garden (Carretera Puerto Vallarta a Barra de Navidad Km. 24)
• Vallarta Botanical Garden downtown office (Ignacio L. Vallarta 399, Colonia Emiliano Zapata)
• A Page in the Sun Bookstore (Lázaro Cárdenas 169, Zona Romántica)
• The Living Room Bookstore (Av. Paseo de la Marina Sur 245, Marina Vallarta)
• Arte Viviente Artists Co-op (Libertad 303, Downtown Puerto Vallarta)
Book signings coming soon! Watch for announcements on social media and in local news.
Sandra Cesca has traveled the world, but found herself returning to Mexico more and more. She moved to Puerto Vallarta in 2008 and never looked back. She is a cultural tour guide with her own small business: Puerto Vallarta Walking Tours.
She is also a freelance writer and cultural photographer whose work can be found on Your Cultural Insider and Sandra Cesca Photography. Contact her: sun4sandra(at)gmail.com.