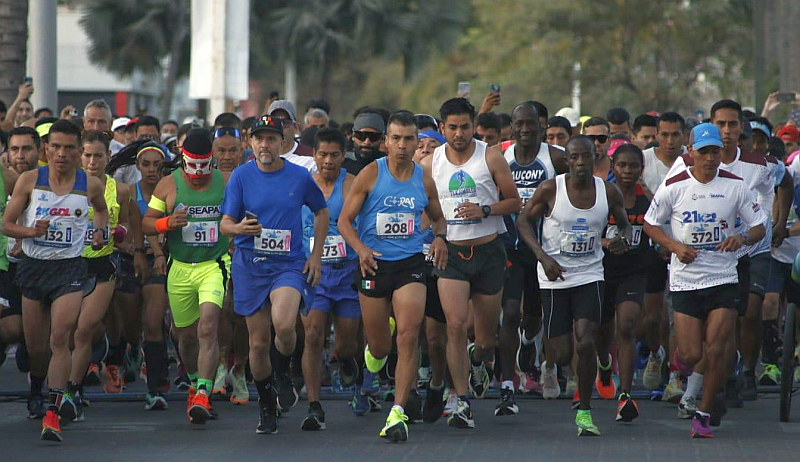 Puerto Vallarta, Mexico – The SEAPAL Vallarta Half Marathon and Recreational Race, run on Sunday, March 26 as part of the agency's World Water Day celebrations, exceeded expectations with more than 1,000 runners competing.
In addition to being a success on the sporting level, it was a race with a cause, with more than $300,000 pesos ($236,800 pesos from race registration fees and $70,000 pesos donated by the Prisa company) raised for the DIF Vallarta System's "Vida Nueva" shelter, which cares for vulnerable children.
The fun began at 7:00 am on Sunday, March 26, when SEAPAL administrator, Jorge Castillo Núñez, sounded the buzzer that signaled the start of the Half Marathon in the vicinity of the Agustín Flores Contreras Sports Unit, which housed the color, music and joy of this party with an environmental theme. The 5 kilometer race started 10 minutes later.
In the men's half marathon, Israel Oropeza Vázquez from Tonalteca took first place with a time of 1 hour 05 minutes 59 seconds, Kenyan Ndege Stephen crossed the finish line in second place with a time of 1 hour 06 minutes 53 seconds, while third place was taken by Rubén Chávez Hernández with 1 hour 07 minutes 21 seconds.
Isabel Guadalupe Oropeza Vázquez became the first woman to cross the 21 kilometer finish line with a time of 1 hours 15 minutes 01 seconds, Guadalupe Jazmín Águilar came in second with a time of 1 hour 15 minutes 36 seconds, and closing the podium was Mochama Lydiah Bosibori with 1 hour 23 minutes and 43 seconds.
In the 5 kilometer race's free category for men, first place went to Jonatan Germán Ortega with 15 minutes 38 seconds, Iván Ulises García Quintero came in second with 15 minutes 47 seconds, and third place went to Humberto Meza with a time of 17 minutes 08 seconds.
In the women's division of the same race, Fanny Jaquelin Oropeza Vázquez was victorious with a time of 15 minutes 39 seconds, surpassing Martha Nallely Navarro and Dulce Guadalupe Sánchez, who recorded 18 minutes 54 seconds and 20 minutes 39 seconds, respectively.
Accompanied by the director of the DIF Puerto Vallarta System, José Roberto Ramos Vázquez, who was representing the president of the institution, María de Jesús López Delgado, Jorge Castillo highlighted the noteworthy participation and unprecedented collection of funds in the 2023 edition of the competition.
"We thank everyone who made it possible to reach this historic figure, that speaks of the confidence in the race, the great tradition that we are creating, and the example for future generations," Jorge Castillo said.
The complete SEAPAL Vallarta Half Marathon and Recreational Race results are available at trotime.com.mx.