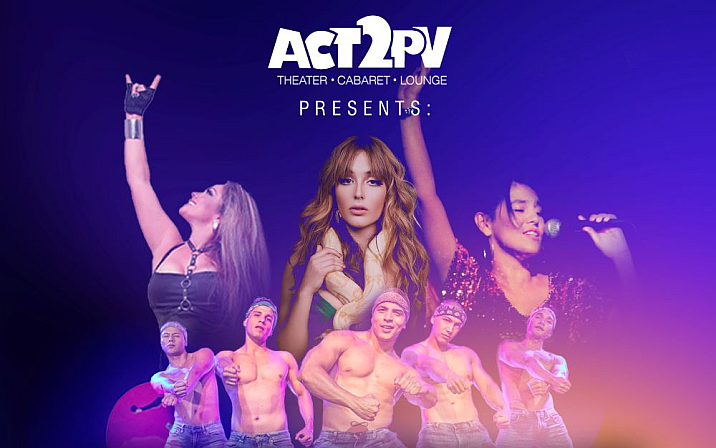 Puerto Vallarta, Mexico – Act2PV, the #1 entertainment venue in Puerto Vallarta, continues to maintain its excellent standards during the summer! The venue itself is comfortable, air-conditioned, and creates a delightful atmosphere for an evening out.
Join us this week at Act2PV and immerse yourself in the incredible warmth and joy of the summer season. We can't wait to share unforgettable moments with you, so check out the schedule below, mark your calendars, get your tickets at act2pv.com, and get ready for an incredible experience!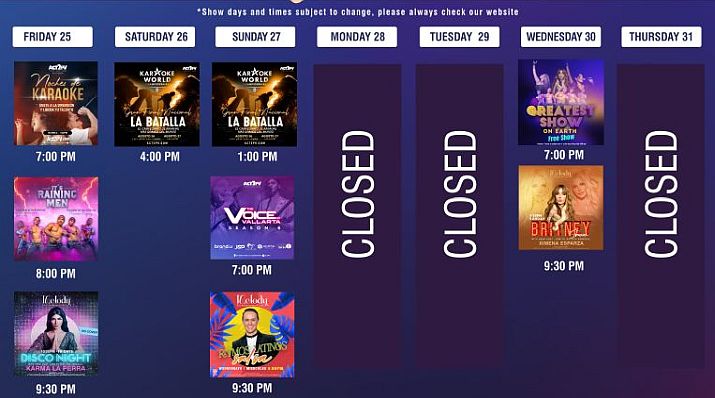 SHOWS PLAYING THIS WEEKEND

VOICE OF VALLARTA SEASON 6 FINALS
Sunday, August 27 at 7:00 pm
WHO WILL BE THE WINNER?
Act2PV is presenting the final week of the Voice of Vallarta, Season 6! It has been an exciting competition, with lots of drama, happiness, tears, camaraderie and so much more. The five finalists for this competition are: Jessi Valenti, Amanda Michele, Sol Reyes, Indra Noemi and Rulo del Mar. These five finalists have worked hard during this 8-week competition, singing duets with strangers, songs from different genres, songs in another language, a Broadway performance, as well as a 15-minute cabaret. We have watched them grow each week and are so excited to see their final performances. They will be singing one song picked by the judges, as well as a song of their own choosing. Each contestant that appeared on the stage this season deserves a lot of credit and applause. But who will win on Sunday? Please join us on August 27. These contestants NEED your vote, so come out and support your favorite!

KARAOKE WORLD CHAMPIONSHIP
Saturday, August 26 4-7 pm and 8-11 pm
Sunday, August 27 from 1:00 to 4:00 pm
Music unites an entire country as the 3rd Edition of Karaoke World Championships Mexico begins! It's a battle of voices where 50 Mexicans from 21 states of the Republic will compete. Each of them dreams of representing Mexico in the World Finale of this fascinating competition to be held in Panama City, Panama. They will compete with contestants from over 30 different countries around the world. Act2PV's very own Brenda Gavino represented Mexico in last year's competition in Norway, taking 3rd place! We are so proud of her and invite you to find out who this year's winner will be.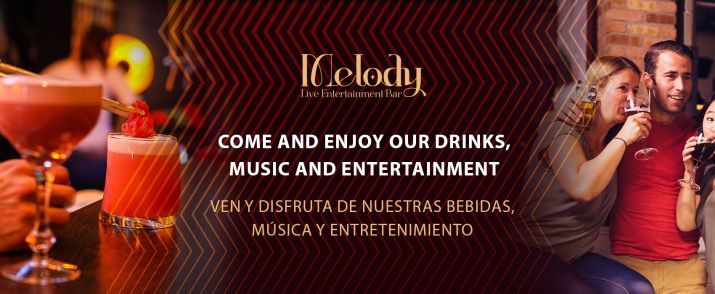 The Melody Bar is open on Friday, Sunday and Wednesday this week. Featuring live entertainment, dancing, and some great 2×1 drinks, this is a great place to relax, meet new friends and have a good time. Don't forget – there's a late night Happy Hour from 9-10:00 pm!
2023-2024 SEASON PASSES NOW AVAILABLE
Many people have been asking about the availability of season passes for the 2023/2024 season. There are three different kinds of passes available, and they can all be used at 40+ shows throughout the season. For more information or to purchase your season pass, click HERE, or send an email to info(at)act2pv.com.
Act2PV will be announcing our brand-new show schedule for the 2023/2024 season very soon. We are so excited and look forward to seeing you soon! Stay tuned!

The Act2PV Entertainment complex is located on the corner of Insurgentes and Basilio Badillo on the South side of Puerto Vallarta. For more information, follow Act II on Facebook. Click HERE to learn more about Act2PV.