BREAKING NEWS: Keith Tynes, famed R&B singer and formerly of The Platters, will make a guest appearance!
Bucerías, Nayarit, Mexico – Soulfest In The Garden II offers incredible entertainment and Soul Food in the idyllic setting of Los Arroyos Verdes on the North Shore on Sunday, February 5th at 5 pm with Showtime at 6 pm. You'll experience superb musicians and talented local artists as well as a wide variety of delicious cuisine for one day only in the beautiful setting of Bucerías.
Dwight Blake Entertainment in association with The MoSoul Concert is excited to feature this encore event, Soulfest In The Garden II. This outdoor music festival takes place in the gorgeous gardens of Los Arroyos Verdes for a fabulous experience.
This music extravaganza will offer a variety of local and international performers all sharing one stage and with one purpose, to continue to bring back live entertainment to music lovers around the Bay.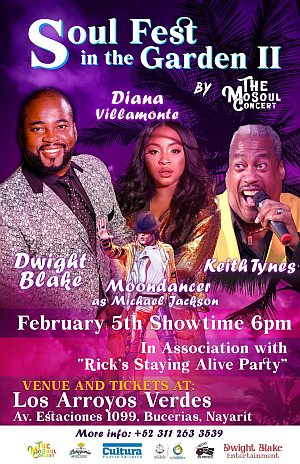 This show is in association with 'Rick's Staying Alive Party' which celebrates health and happiness, so this is a big party evening.
You'll hear top entertainers, like singing sensation, Diana Villamonte, from The Voice of Mexico; The Moondancer as Michael Jackson and internationally acclaimed Headliner, Dwight Blake, plus more!
Headliner Diana Villamonte continues to skyrocket to fame in both Vallarta and beyond. A native of Panama, this beautiful, young woman possesses all the attributes of a rising star in entertainment. Her singing is absolutely breathtaking and her stage presence is phenomenal. Over the past six years, Diana has captivated Puerto Vallarta audiences with her extraordinary shows!
Dwight Blake is a Singer, Songwriter & Producer from Jamaica, who calls Mexico his second home. He's traveled all over the world performing and sharing the stage with headliners like Barry White, The Temptations, Denita Asberry, The Tenors and many others. You'll love Dwight's smooth and mesmerizing tone as he takes you back to the hits of the yesteryears.
Soulfest in the Garden II features quality music as well as a wide variety of delicious soul food available to enjoy while listening to some of the best entertainment from Vallarta and beyond!
A wide range of culinary options will be available for purchase by Island Vibe Jamaican Restaurant, Hencho en Mexico Bakery and La Patagonia Cocina Argentina. Your scrumptious food options along with the top-notch entertainment in an amazing location all add up to an experience that you won't want to miss!
Back by popular demand, Soulfest in the Garden II, happens on Sunday, Feb 5th starting at 5 pm with Showtime at 6 pm in the incredible gardens of Los Arroyos Verdes on the outskirts of Bucerías at Avenida Estaciones 1099.
Tickets for this exciting North Shore event are $700 pesos and are available at Los Arroyos Verde (Tel: 329-298-6314 or 311-263-3538) and soon-to-be-announced locations. Free parking will be available on-site, or easily take a taxi to and from the location. For more information about Los Arroyos Verdes go to: LosArroyosVerdes.com.