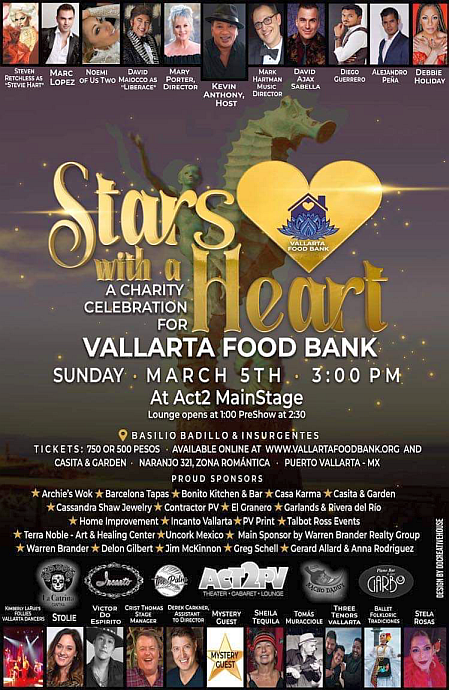 Puerto Vallarta, Mexico – Stars with a Heart, a Vallarta Food Bank fundraiser, is a musical event with 100% of donations going to the foundation. Set to take place on March 5th on the Act2PV Main Stage, this fabulous celebration that features a great day of music from talented musicians will kick off at 3:00 pm.
Proudly sponsored by restaurants, artists, and local businesses, the goal is to continue to expand services to an underprivileged population that struggles to eat, work and find suitable housing.
Vallarta Food bank has served over 300,000 hot meals and distributed over 130,000 despensas. An impressive accomplishment, especially during the difficult year of the pandemic, when services were needed by many more families.
In addition to feeding impoverished families, free showers are provided, along with laundry facilities. These services are seen as a human rights issue for those struggling with hunger and homelessness.
The food bank also fosters lifting up the needy, providing free English classes, job training, vocational courses, and medical assistance. Rather than just a charitable organization, recipients learn how to enter the workforce, to be proud and self-sufficient, so necessary for physical and mental well-being.
A weekly bazaar provides free clothing, shoes, and household necessities. A food pantry market strives to give families access to fresh locally sourced food, including meat, eggs, fresh vegetables, and fruit. In fact, the program has become so successful in this endeavor, plans are in place to expand access to the bazaar to an additional 200 families each month.
In addition, the Vallarta Food bank stands ready to assist the poor during devastating events like hurricanes and flooding.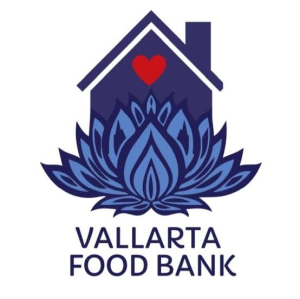 Vallarta Food Bank is supported by the efforts of local volunteers and donors. A great way to help is to become a monthly donor. Just $10 USD guarantees a monthly despensa. If you would like to contribute, it's easy to donate through the Vallarta Food Bank website. The food bank counts on these donations to fuel their core mission, to continue to feed the hungry and homeless.
Come join us on March 5th at Act2PV to support the food bank in continuing this important work. Seats are only $500 pesos for general seating and $750 for preferred seating. Get your ticket now at vallartafoodbank.org for this great day of music from many talented musicians.
Event sponsors include Archie's Wok, Barcelona Tapas, Bonito Kitchen & Bar, Casa Karma, Casita and Garden, Cassandra Shaw Jewelry, Contractor PV, El Granero, Garlands & Riviera del Rio. Also sponsoring are Home Improvement, Incanto Vallarta, PV Print, Talbot Ross Events, Terra Noble, Art & Healing Center and Uncork Mexico. The main sponsor of the event is Warren Brander Realty and its group of agents.

Written by Andrea Thompson, an expert real estate agent working for Warren Brander Realty Group in Puerto Vallarta. She can be reached at 322-235-2345, or by email at andrea(at)wbrealtygrouppv.com
To learn more about Warren Brander Realty Group, click HERE.