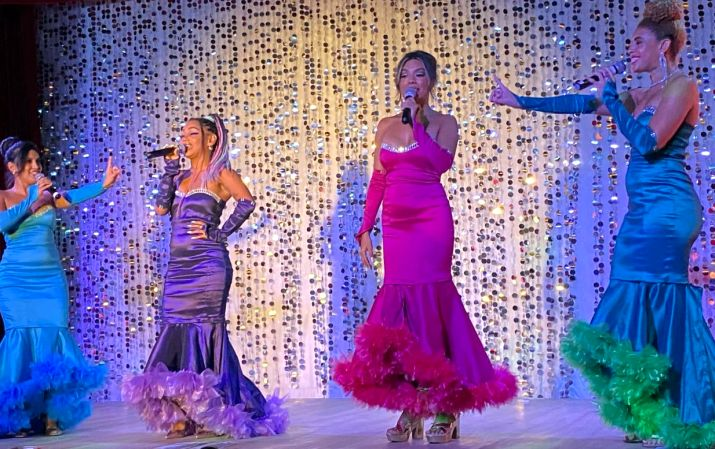 Puerto Vallarta, Mexico – Supreme! is a musical revue at Act2PV's Red Room that was originally inspired by the music of The Supremes, Motown and other fabulous 60's & 70's songs. Over the past three years, Supreme has developed into a celebration of pop hits and toe-tapping music that had people dancing in the streets when girl groups reigned supreme.
From the moment these four fiery women set foot on stage, sizzling harmonies fill the air! Each performer takes a turn becoming the lead singer and is backed up with gorgeous harmonies and coordinated dance steps.
Supreme! has a Las Vegas vibe that features these four beautiful women, their sexy costumes, graceful dancing and incredible harmonizing! This show dazzles and delights audiences of all ages, especially those who loved all those favorite hits of yesteryear.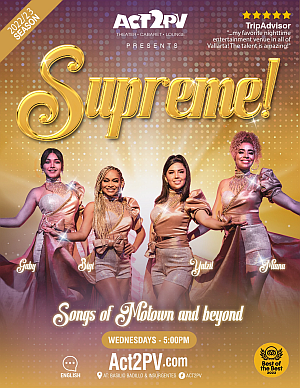 Supreme features great background stories, superb choreography & dance along with great harmonies and some lovely lead solos. Gaby, Bigi, Yulzil and Miana have a wonderful time performing together, which makes for a happy and upbeat show.
As the performance continued, we enjoyed more songs and fabulous dance routines. We loved their rendition of Natural Woman followed by I Say A Little Prayer for You. A song from Dream Girls included more great choreography and they got their groove on with Chain of Fools and Dancing in the Streets. And then, they continued with the upbeat number, I Know Something About Love.
After a brief intermission, the ladies returned with a toe-tapping, hand-clapping, medley of more hits songs like Boogie Woogie Bugle Boy, My Boyfriend's Back and Will You Still Love Me Tomorrow? These gals were fired up and feisty and thrilled us with their songs, dance and beautiful costumes.
Closing numbers included a lively version of Proud Mary and The Pointer Sister's hit, I'm So Excited. This fun show came to a conclusion as we were treated to another beautiful medley of nostalgic songs, as an encore.
Supreme is the perfect show for families or for those who love all that great music from their younger days. The right people showed up for this performance and had a wonderful time. If you like all those fabulous hits from the past then you'll really enjoy the way these beautiful young women deliver Supreme. Gaby, Bigi, Yulzil and Miana are ready to entertain you every Wednesday night at 5 pm in Act2PV's Red Room.
Tickets are available at act2pv.com. Act2PV now accepts Visa, Mastercard, American Express, Discover and Paypal for payments online and at the box office.

The Act2PV Entertainment complex is located on the corner of Insurgentes and Basilio Badillo on the South side of Puerto Vallarta. For more information, call (322) 222-1512, or follow Act II on Facebook. Click HERE to learn more about Act2PV.