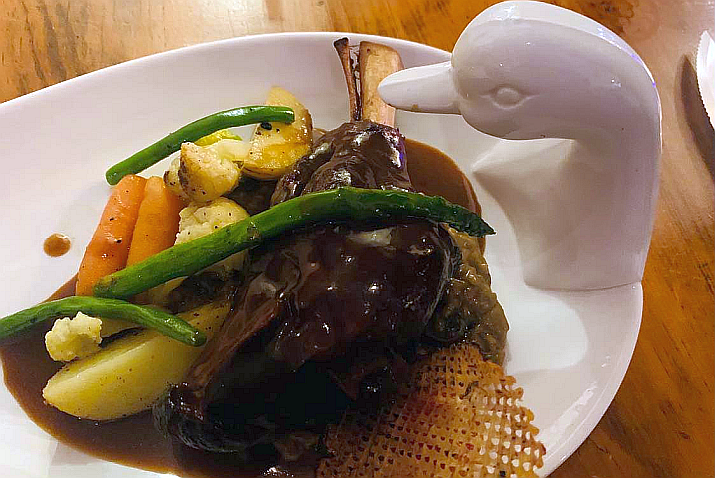 Puerto Vallarta, Mexico – Introducing 'The Hungry Critic', a new weekly column by restaurant critic and long-time Vallarta resident, Austin James.
Each week I will review one of Puerto Vallarta's famous and not-so-famous culinary experiences. Keep in mind, this is just my take on that one day, and yours may not be the same.
After hearing so many great things about Polo Cortes's restaurant, D'Cortes, we finally ventured to its cozy location in the charming Colonia El Caloso. Reservations are a must, with seating of only about thirty.
Our first course was a great starter. The CLÁSICA CAPRESE ($175 pesos) was not unique in its presentation, but every bite was totally spot-on, from the plump mozzarella and well-ripened heirloom tomatoes to the best fresh basil pesto I've tasted. It's perched on a toss of arugula salad and drizzled with a creamy balsamic reduction.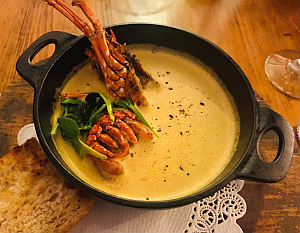 We also shared the second course, the CREMA DE LANGOSTA ($260 pesos). I had high hopes for this rather pricey lobster bisque. It's good, but not great. It is described as flamed with brandy, which would have been a nice table-side presentation, but I could only detect a hint of it.
The look is appealing, with a bay lobster head and tail peeking out. Unfortunately, the small lobster "medallion" described on the menu was still firmly attached to the tail. It was quite a battle to coax this somewhat overcooked and rubbery creature from its shell while still in the soup bowl. My shirt was evidence of that.
We shared two entrees next. First, the TAGLIATELLE LA MAR ($320 pesos) arrived. The white wine sauce was delicious, but the seafood was limited, with rather petite shrimp and mussels. If there were any other seafood participants, they must have been pureed in the sauce.
Finally, my favorite was the OSOBUCO DE CORDERO ($520 pesos). This red wine-braised lamb osso buco was accompanied by wild mushroom risotto and veggies. Even with the rather skimpy risotto and limp veggies, all tasted wonderful, especially the lamb.
We passed on the delicious-sounding desserts but thoroughly enjoyed the ample-pour Grey Goose martini ($200 pesos) and a glass of the Trapiche malbec ($180 pesos).
I've got mixed feelings about the ambiance of this place. It is casual, warm and inviting, but also rather loud and a little too kitschy with all its sayings written on the walls. The menu bespeaks a more sophisticated setting. The service was excellent, although with two waiters serving your table, you often get asked the same question twice. It's a go-to place for special occasions (there were three birthday tables that night). Would I go back? – Definitely, yes.
I give D'Cortes:

C. Via Lactea 222 – El Calosa
Open Tue-Sat 5:00-11:00 PM
Reservations: 322-244-1144
I welcome your comments or suggestions of restaurants to try at thehungrycriticPV(at)gmail.com.
Click HERE to read more Puerto Vallarta restaurant reviews.