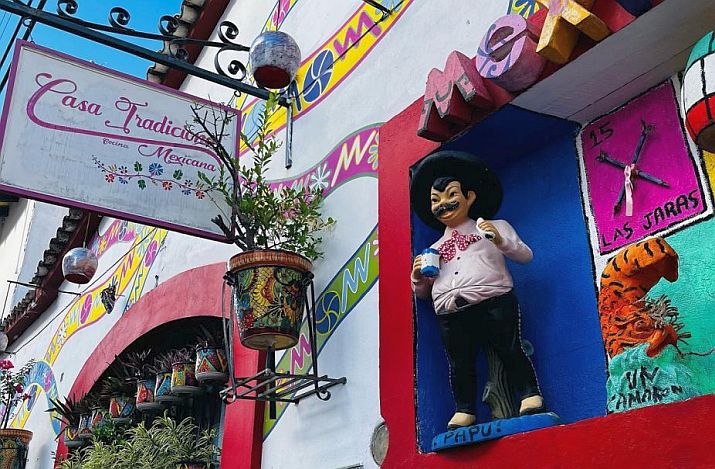 Puerto Vallarta, Mexico – The Centro area of Vallarta is home to some of the best and longest-lasting restaurants in the city. Some are so tucked away on side streets that you might not even know they exist. We took a stroll the other night and couldn't resist the way this restaurant almost beckons you to enter with its colorful flower-pot-laden exterior.
As soon as you go inside, it's like going into a hacienda with warm wooden furniture, brightly colored walls, and perhaps the best tequila collection in the city. Our waiter, Nacho, has been a Vallarta favorite for many years at several other restaurants before landing here.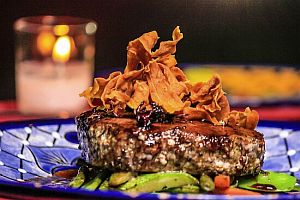 We started our meal with… well, let me back up a minute. We actually started with the best Cadillac Margarita ($220 pesos) I have found in Puerto Vallarta. Before you comment on the price, wait until they pour the Grand Marnier at the table, and you can tell them when to stop pouring. Moving forward, that cocktail is a perfect pairing with the tableside-prepared Guacamole ($195 pesos). They mix it just to your taste, which, in my case, means a healthy dose of fresh garlic. Top it with their roasted tomato salsa, and you will never want it any other way.
One of the more interesting entrée selections is the Fresh Tuna Steak ($470 pesos). The flavor is enhanced magically by a hibiscus flower glaze, and they top it with a tangle of sweet potato crisps. My partner was in the mood for a more traditional Mexican selection, so he selected the Mixed Molcajete ($470 pesos). Shrimp, chicken, and beef are simmering in a borracha sauce with grilled chorizo, cactus, baby onion, and panela cheese. It is served in a hot lava stone bowl, perfect for dipping the soft corn tortillas.
The menu is quite extensive, from enchiladas to rib-eye steaks, and the price points will suit any budget. However, the shining stars of this restaurant are its service staff. You will feel like a local family invited you to dinner. Oh, and don't forget those Cadillac Margaritas!
I give Casa Tradicional:

C. Zaragoza 245, Centro Puerto Vallarta, Jal. 48300
Open Daily 12 PM to 11 PM
Phone: 322-222-1812
I welcome your comments or suggestions of restaurants to try at TheHungryCriticPV(at)gmail.com.
Click HERE to read more Puerto Vallarta restaurant reviews.