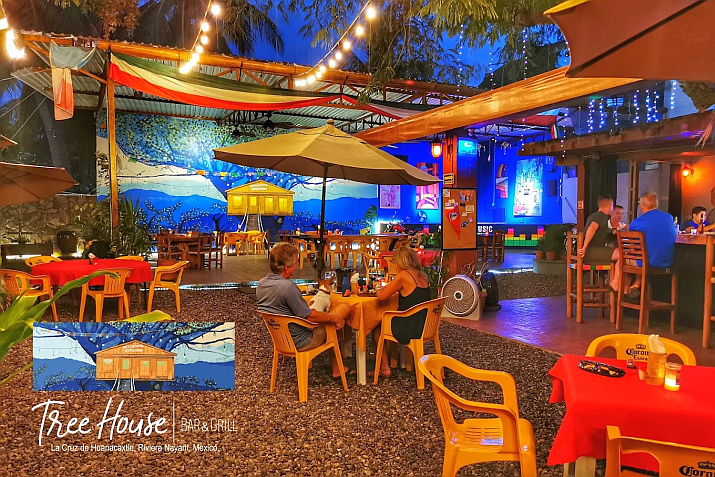 Riviera Nayarit, Mexico – The small town of La Cruz de Huanacaxtle on the North Shore has many charming features. Known for its fishermen, world-class Marina, Sunday Market, and first rate restaurants and entertainment, you'll find what you're looking for in this beautiful village.
Over 20 years ago, Philo Hayward created a restaurant/bar that brought the ex-pat community together in La Cruz. For years, Alfredo Jimenez and his wife, Marichuy Ortega Gonzalez, were part of the successful team that ran Philo's Restaurant. Since Philo's passing, they have created their own place, The Tree House Bar and Grill, with an outdoor garden setting along with fabulous food, libations and quality entertainment.
Located in the heart of the village at Coral 68, La Cruz de Huanacaxtle, The Tree House Bar and Grill is open daily from 1 pm to 11 pm. You can find information about it along with entertainment updates on its Facebook page. You can also email The Tree House at lacruzdinnershows(at)gmail.com, or call 322-182-4026.
Upcoming shows and events for the next month at The Tree House are listed below. Some shows are ticketed, some require a small cover fee, and others are free.
• Duo Dorado (with Amy Armstrong/Fernando Gonzalez) on select Fridays
• Burrito Lucido (Burrito night) Tuesdays
• Noche Mexican (Mexican food & music) Wednesdays
• Media Luna (3 person live Mexican folk music) select Wednesdays
• The Bay Roots Band Thursdays
• 2X1 BBQ Rib Night select Fridays
• Rocketman (Elton John tribute) Monday, Jan 2
• Freddie Mercury Tribute Monday, Jan 9
• Ladies of Rock Saturday, Jan 7
• Carlos Santana Tribute Band (Soul Sacrifice) Saturday, Jan 14
• My Way (Sinatra and more) Monday, Jan 16
• Spencer Day Saturday, Jan 21
• Piel Canela Mondays, Jan 23 & Feb 20
• Jessie Tyrle Williams (live band) Saturday, Jan 28
• Julio Y Geo Sunday, Jan 29
• British Invasion Live Music Show Monday, Jan 30
• Luna Rumba Saturday, Feb 11
More shows in February, March and April will be announced on their Facebook page. La Cruz has its own nightlife and The Tree House Bar and Grill is bringing out the big names in entertainment from Vallarta and beyond.