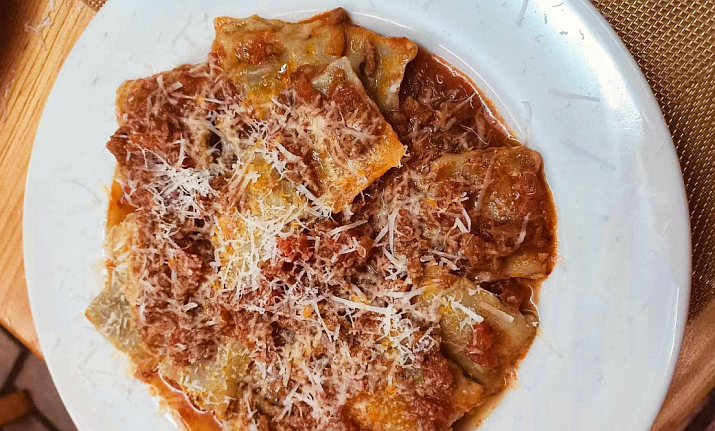 Puerto Vallarta, Mexico – It's amazing how many charming little restaurants you can find just by walking down the streets of Puerto Vallarta's Centro. We stumbled on this one, and upon walking in the door, we were greeted by the co-owners Alejandro (the chef) and Bruno (the server), who immediately offered to open the bottle of wine we brought with no corkage fee. They don't have a liquor license, which is a plus for those who like to bring their own.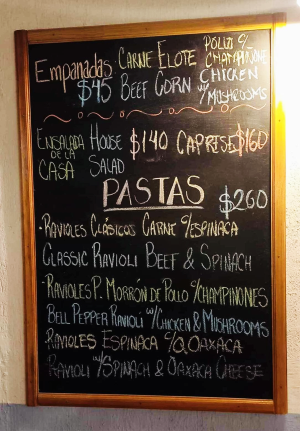 The menu is Italian/Argentinian fusion and one of the best takes on that I've experienced in Mexico. We were treated to perhaps the perfect garlic bread, crunchy & light, served with a cream cheese butter.
Bruno suggested the empanadas as a starter. We shared one each of the Carne Elote and Pollo con Champinones ($45 pesos each). I can't decide which I liked better, the beef with corn or the chicken with mushrooms. Both were good-sized with a light, flakey pastry and served with an incredibly slightly sweet, spicy salsa.
We then shared the House Salad ($140 pesos) with mixed greens, onions, tomatoes, carrots, hearts of palm, and raisins. Tossed in a light tangy dressing. Some greens were a tad bitter. There was more than enough for the two of us, and I brought some home. I'll opt for the Caprese ($160 pesos) next time.
Bruno's description of the entrees made you want to order everything, so we let the chef serve us his favorites.
We shared the Classic Ravioli ($260 pesos) with beef and spinach, topped with a creamy tomato meat sauce, and the Bell Pepper Sorrentino ($280 pesos) with Bacon and Manchego Cheese and a rich, fresh tomato sauce.
Bruno grated fresh mozzarella on both dishes, which crowned these fresh, house-made pasta choices. It is clear that all the prep that goes into their culinary specialties comes from the heart.
We shared the house-made Black Forest Cake ($170 pesos) for dessert. It did not disappoint.
At the end of the evening, we were stuffed but pleasantly!
Bruno and Alejandro are both exceptionally charming and accommodating. Their price points are excellent, especially considering all the labor that must go into every menu item. It was as if we had been transported to Italy (or Argentina). The space felt like an authentic Mom and Pop local spot. The focus is not on the décor but rather on the food and service. It's up there with my favorite meals I've reviewed thus far.
I give El Bodegón de Pastas:

Libertad 330, Centro 48300
Open: 5 PM to 10 PM, Tuesday to Sunday
Reservations: 557.450.1009
Seating for 20. Reservations highly recommended
I welcome your comments or suggestions of restaurants to try at thehungrycriticPV(at)gmail.com.
Click HERE to read more Puerto Vallarta restaurant reviews.