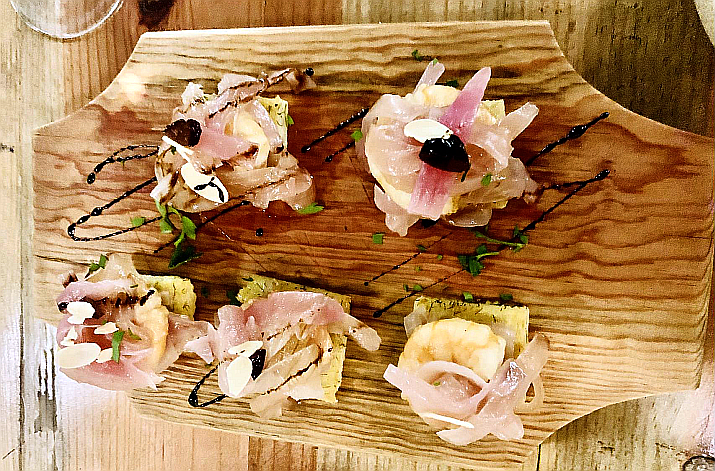 Puerto Vallarta, Mexico – Everybody's talking about the Romantic Zone's newest little gem, Il Pesce, so I had high hopes when we ventured there for the first time this week. It lives up to its Italian roots with a wide-ranging menu of pescatarian delights and fresh pasta. Don't look for fowl or meat courses because they are not on the menu.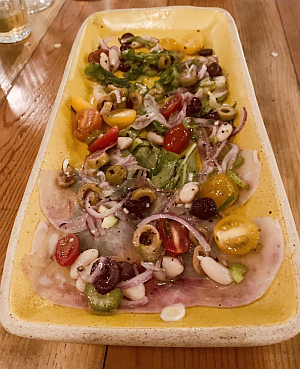 Soon after we were seated, our server brought us a complimentary Mediterranean rustic vegetable tangle with fresh bread. Our antipasti choice was the Carpaccio di Pesce Spada ($160 pesos). Very delicate slices of swordfish are topped with a Sicilian salsa of arugula, cherry tomatoes, fava beans, onion, olives, lemon, olive oil and garlic. The flavors blended beautifully, and the swordfish was sheer perfection.
My partner tried to discourage me from ordering the Calamari Fritti ($160 pesos). We have tried to find a truly great version of this in Puerto Vallarta for years and have had little success. Unfortunately, our quest will have to continue because this selection was mediocre at best. What little actual fried squid was in this bowl was minuscule, and some of it was just the fried breading without the squid. However, I will admit that the crunchy breading was very tasty, as was the aioli sauce.
The next time we go, we will definitely try an appetizer that our friends two tables over selected. The Gamberi in Saor ($180 pesos) with shrimp, onion and almonds atop a polenta cake was a visually stunning and imaginative creation.
We ended our meal with the Pesto Pistache con Gamberi al Limone ($240 pesos). As you can see, the entrée prices are quite reasonable here, most in the low 200s. I loved the flavors in this perfectly cooked pasta with lemon shrimp, parmesan, mint, and garlic. All the pasta selections are tempting, several of which are freshly made.
This restaurant is tiny, with seating for only about twenty. The décor is casual and comfortable with rustic wood tables and warm lighting. It's very popular, so definitely make a reservation. We'll be back.
I give Il Pesce:

Constitution 285 B
Open Mon-Sat 5:00-10:00 PM
Reservations: 322-297-6060
I welcome your comments or suggestions of restaurants to try at thehungrycriticPV(at)gmail.com.
Click HERE to read more Puerto Vallarta restaurant reviews.