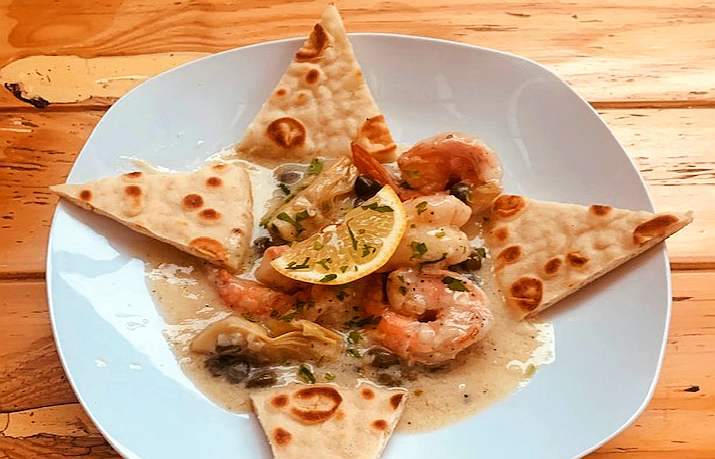 Puerto Vallarta, Mexico – Versalles is becoming the go-to Puerto Vallarta neighborhood for eclectic and innovative restaurants. It is by far worth the 10-15 minute Uber ride for those of us who often stay close to home in the Romantic Zone. Our visit last night to Olive by Ruben was no exception.
Chef/Owner Ruben brings over thirty years of experience with Greek cuisine in Mexico to his two-level contemporary restaurant. We sat on the upper terrace, which is very open with delightful views, and enjoyed the music from the collaborative wafting across the street.
We started with the Fricassee de Camaron ($190 pesos), sauteed shrimp and artichoke in a delicious sauce with garlic, capers & lime. It is served with freshly grilled pita bread, which I asked for more to soak up that savory sauce.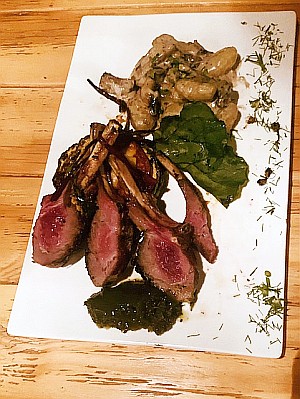 Our other starter was the Bifteki ($180 pesos). At first glance, it looked a bit like dolmas in shape, but it was ground sirloin mixed with feta and herbs, then baked and served with Tzatziki, a yogurt-based sauce with fresh dill that defines Greek food for me. I found the beef tasty, but somewhat overcooked. The sauce saved it!
I found it hard to pass on the Greek Salad ($160 pesos) and moved directly to our two entrees. My partner selected one of two lamb dishes they have – the Rack of Lamb ($490 pesos). It was prepared the same as I like to do it – with fresh rosemary, Dijon mustard, garlic and olive oil. It was spot-on medium rare and flavorful and served with tiny, caramelized red potatoes and vegetables. I might have hoped for one or two more of those ribs.
I chose the Beef Medallions "RAS" ($350 pesos), which was by far the most exciting selection on the menu, with a black truffle and foie gras cream sauce. I also eyed the Homemade Gnocchi ($250 pesos) and asked if I could have a sampling to go with my entrée instead of the potatoes. The gnocchi was also perfectly prepared in a black truffle mushroom and cream sauce.
Our meal ended with the too-hard-to-resist Figs Flambe ($150 pesos) flamed in cognac and served with coconut ice cream. There is an impressive wine list, and I was delighted with the pricing of our favorite red – Casa Madero 3V ($950 pesos) – it typically costs $300-400 more.
The best restaurants owe much of their success because of their service staff. Lisa and Johnny helped make our first experience here a wonderful one. The restaurant has rather ambitious hours – open daily for breakfast and dinner. I'll be curious to see if those remain the same.
When my friends ask me for a new Puerto Vallarta restaurant to try, this will undoubtedly be near the top of the list.
I give Olive by Ruben:

Calle Havre 252 – Versalles, 48300
Open Daily: 8 AM-2 PM; 4 PM-11 PM
Reservations: 322-688-7285
I welcome your comments or suggestions of restaurants to try at thehungrycriticPV(at)gmail.com.
Click HERE to read more Puerto Vallarta restaurant reviews.