Puerto Vallarta, Jalisco, Mexico – Tickets for What A Drag 2023, the most anticipated social event of the high season, are now available online. Make plans now to come to Teatro Vallarta on March 12 and watch some of Puerto Vallarta's bravest straight men get 'all dolled up' and brazenly vie for the 'Miss What A Drag' crown, to raise funds for the Casa Esperanza Women's Shelter.
We are thrilled and excited to announce WAD2023 returning host Amy Armstrong. Amy is one of the longest performing talents in Puerto Vallarta, entertaining sold out crowds with her unique comedy and beautiful voice. This season she has two shows at Nacho Daddy.
What A Drag will have you laughing, cheering, and dancing in the aisles. Support and vote for your favorite straight guy in drag! This year's contestants are: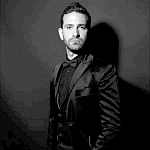 Nacho Granados
Nacho Granados was born in Buenos Aires, Argentina and at the age of 18 he took his first musical theater lesson and at 22 had his first show. This was the beginning of being part of musical theater shows for kids and Broadway-style shows, at the same time having his own performances in pubs, nightclubs and restaurants. In 2011 he moved to Mexico, continuing his singing career with several shows at The Palm Cabaret and Bar, most notably My Way. Nacho's Diva Sponsor is Studs Bear Bar.

Brian Vladu (Dami LaVida)
Brian was born in Garden City, Michigan and now calls Puerto Vallarta his home. Brian has one son and enjoys playing fantasy baseball and fantasy football. Brian was recruited to be a WAD contestant by Trisha Lyman (thanks Trisha!). Brian is looking forward to performing for you and raising money for the women and children of Casa Esperanza. Brian's Diva Sponsor is Elengorn Realtors.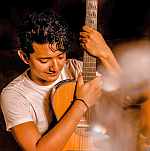 Diego Arreola
Diego was born in Puerto Vallarta and lives here with his talented girlfriend Reina Elizabeth. Diego is a professional singer and musician and loves performing at various venues here in Puerto Vallarta. When he's not performing Diego loves to play soccer, go to movies and hang out at the beach. Diego is looking forward to performing for the first time as a drag diva and raising money for Casa Esperanza. Diego recently discovered that he could sing high notes, like Whitney Houston and Celine Dion, so you don't want to miss this performance! Diego's Diva Sponsor is Ryan Donner Realtor y Asociados.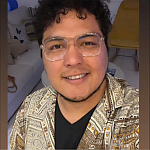 Victor Lara (Miss Victoria Secret)
Victor was born in Tuxpan, Veracruz, Mexico and now lives in Puerto Vallarta. Victor is a Customer Service Manager at PVRPV and enjoys photography during his leisure time. Victor is a single straight man with no children (so ladies take note). Victor is looking forward to helping to raise money for Casa Esperanza women's shelter. Victor is not looking forward to dancing, because, as he says, "A tree moves better than me."
Victor's Diva Sponsor is Nacho Daddy.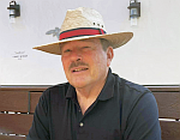 Robert Hagstrom (Lolita Margarita)
Robert is originally from Oklahoma City, Oklahoma, currently lives in Dana Point, California and spends his winters in Puerto Vallarta with his partner Char. When we asked Robert how he learned about What A Drag he said, "Char". When we asked why he volunteered to be a contestant he said, "Char asked me". Thanks Char!! Robert has three children and may be our first great grandfather contestant ever! Welcome to the WAD family Robert. Robert's Diva Sponsor is Kim Kieler Properties.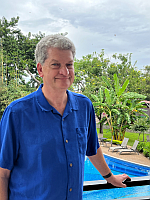 Brian Hanko (Butter Tart)
Brian was born in Toronto, currently lives in Toronto, Canada with his wife Susan and they both enjoy spending winters in Puerto Vallarta. Brian is the former CFO for Philips Lighting Canada and today is head of sales operations for Viscor Lighting Canada. He is President of the Rivera Molino condominium in Puerto Vallarta and President of Nickolas and Barbara Sacco Charitable Trust. When Brian is not busy working, he loves to golf, travel, and attend live sporting events. Brian has two daughters who have suggested that he has no artistic talent. So, aside from helping to raise money for Casa Esperanza, Brian volunteered to be a contestant to prove them wrong! Brian is looking forward to bringing you the best performance possible. Technically, this is not the first time Brian will dress as a woman. If you see him on the streets of Vallarta, make sure to ask him about it. Brian's Diva sponsor is REMAX Realtors.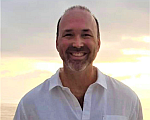 Joseph Kremer
Joseph was born in Quincy, Illinois and grew up in Phoenix, Arizona. Today he and his fabulous wife Sylvia McNamee call Puerto Vallarta their home. Joseph is a software project manager and loves learning new languages and traveling in his spare time. Joseph has one daughter. Joseph is looking forward to performing in front of an audience and raising money for Casa Esperanza. Joseph's Diva Sponsor is Pacific Estates Realty.
Each contestant has a "Fairy Drag Mother" to help them with costuming, makeup and talent, and 'Miss What a Drag' is selected by the audience.
Come out and watch these seven brave men straight men trade in their sneakers for stilettos and get up on stage to make a stand against domestic violence, while entertaining the audience with their hilarious antics. Watching them bravely and brazenly vie for the 'Miss What A Drag' crown in a competition that includes talent – from hilarious skits to singing, dancing and lip-synching – to evening wear and racy Q & A rounds, is a laugh-out-loud experience you won't soon forget.
There is also a prize for "Miss Sweet Charity". This award is given to the contestant who brings in the largest amount of donations.
Make plans now to come out to Teatro Vallarta on Sunday, March 12, 2023 and support (and vote for) your favorite straight guy in drag! All of the event's proceeds benefit the Casa Esperanza Women's Shelter.
Tickets are available online at eventsprout.com. Want to pay cash or via PayPal? Email Freda Thompson at fredafish(at)hotmail.com. Print your tickets or save them on your phone to present at the door on show night, Sunday, March 12 at 8:00 pm. Tickets will not be sold at the theater box office, so get yours TODAY!
About The Casa Esperanza Women's Shelter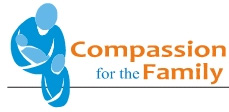 Operated by Compassion for the Family Inc, a US 501c3 charitable organization, the Casa Esperanza Women's Shelter provides beaten, emotionally abused and broken women and their children with a warm caring place to live, food, emotional counseling, nursing care, child care, child counseling, job training, life training and, most of all, a second chance at life – free of violence. When each of these women and their children are ready to embark on their new lives, they are provided with a minimum of six-month follow-up support. For more information, please visit CompassionForTheFamily.com, or contact David Zude at compassionforthefamily(at)yahoo.com.mx.