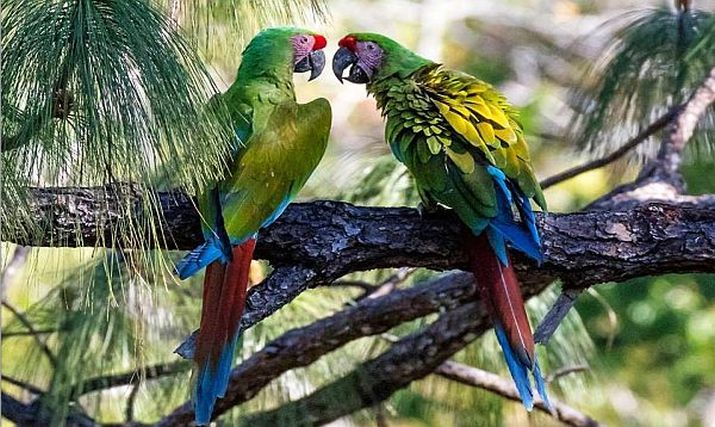 Puerto Vallarta, Mexico – Mark your calendars for the 2023 Vallarta Bird Festival, set to take place on Friday, Saturday and Sunday, February 24th, 25th and 26th. Hosted by the Vallarta Botanical Garden, the festival honors the amazing diversity of birds and nature that exist in Mexico and, more specifically, in Puerto Vallarta, Cabo Corrientes and Bahía de Banderas.
Just a short drive from Puerto Vallarta, the Vallarta Botanical Garden is situated on 74 acres at 1,300 ft above sea level in bird-rich Cabo Corrientes. Offering excellent birding opportunities, over 200 different species of birds have been observed and documented by enthusiastic local residents and international visitors within the Garden alone.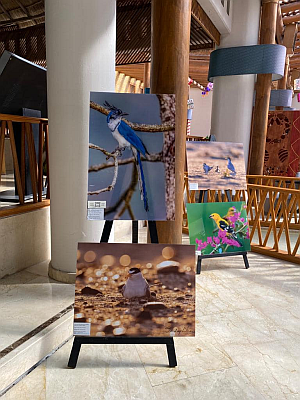 The Vallarta Botanical Garden has focused on protecting endangered species and habitats since its founding in 2004. In an ongoing campaign, Vallarta Botanical Garden plays a vital role in a decade-long conservation project for the emblematic military macaw (ara militaris mexicanus), which was vanishing from the area until recently. The artificial nest box project has provided a vital link in the reproduction of this apex species, and wild military macaws can be seen daily at the botanical garden.
The Vallarta Bird and Nature Festival is held each year to spark awareness for birds and nature and to inspire people to become involved in wildlife and habitat protection here in Mexico.
During this year's festival, tours to bird-rich areas within an hour's drive of the Vallarta Botanical Gardens will be offered each day, along with tours of the beautiful and internationally recognized botanical gardens. These tours can be selected and purchased on the event website, VallartaBirdAndNatureFestival.com.
In addition, fun and educational activities will be available at the Vallarta Botanical Garden throughout the festival, including a photography exhibition on all festival days, a photography workshop on Friday, February 24, and a morning bird walk on Sunday, February 26.
Join this birding walk through the Garden for an early exploration of the various trails to see what birds are visiting the Horcones River area. You may find several species of orioles, Military Macaws, many warbler species, West Mexican Euphonias, Citreoline Trogons, Blue and Painted Buntings, and Squirrel Cuckoos. There have been sightings of the elusive Crested Guan. The river attracts Spotted Sandpipers (wintering), Black Phoebes, several types of flycatchers, Black Vultures, and sometimes even cormorants.
The tour will finish in time for the presentations and children's activities in the Hall of Flowers.
General and Children's Activities
Sunday, February 26
10:00 am – Programa de Aves Urbanas. Speaker: PAU Alexis Cervando Reyes Ruiz
10:30 am – Design your wings! How do birds use their wings? What shape and color are your wings? Speaker: Lizzy Martinez
11:00 am – The Macaw Sanctuary Nest Box Project. Learn about the latest developments at the sanctuary! Listen to the fascinating story about how it all got started. Speaker: Francisco Espino
11:00 am – Conservation of the Wonderful Species of Bahia de Banderas, A.C. CMBAB. Visit with and learn about beautiful rescued birds with their expert caregivers! You'll have a chance to get close to some amazing birds. Speaker: Rohini Velasco
12:00 pm – Paint your Sea and Sky Friend. Speaker: Pauline Trachtenberg
12:30 pm – Children's Art Contest. Speaker: Lizzy Martinez
12:30 pm – Learning to Look. Speaker: Richard Crossley
All general and children's activities are Free with Garden entry fee.
Lectures will be held on Saturday, February 25 in the Hyatt Ziva conference room. Click HERE for the schedule and topics to be discussed.
For more information, visit the event's website or Facebook page.
Visit the internationally famous Vallarta Botanical Garden located just 30 minutes south of Old Town at Km. 24 on Highway 200 and easily accessible by public transportation and taxi. This 74 acre wildlife preserve and botanical garden have something fun for everyone. Over 200 species of birds have been observed on the Garden's grounds. Don't forget to bring your swimsuit for a refreshing dip in the jungle river. See plantings of vanilla, chocolate, and hundreds of other botanical delights! The Garden is open daily from 9 am to 6 pm. Garden admission is just $300 pesos. For more information, call (322) 223-6182 or visit vbgardens.org.