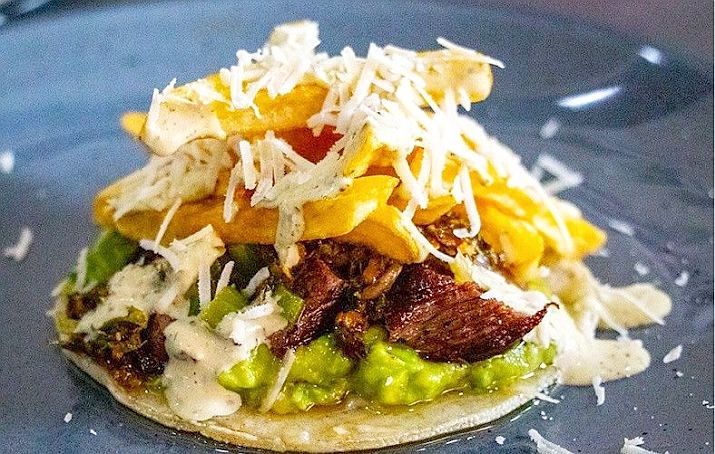 Puerto Vallarta, Mexico – I continue to be excited by the wave of avant-garde restaurants you can find in the Versalles neighborhood. We had heard of this little tacos and beer gem for over a year, but we finally made it there with a couple of friends last week, and I will certainly be back.
After years of enjoying taco stands on the streets of Vallarta, I never imagined giving a 5-star review to one, but let me tell you, this is NO taco stand. It is a culinary experience where you will see sheer artistry in every food and beverage presentation.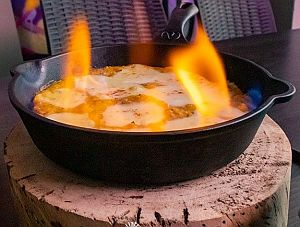 We started with one of their three starters that is somewhat nameless, but we'll call it Queso Flameado ($180 pesos). Served in a cast iron skillet, this melted cheese, corn, and agave honey creation is flamed at the table with Komil liqueur and served with tortilla chips. All four of us enjoyed it, although I'm sure we wished we ordered a second one of these.
Next, my partner and I shared the taco of the month, Pichichi ($220 pesos). Chef/Owner Diego Agret's creative chops were on full display with this imaginative blend of duck confit, guacamole, passion fruit sauce, and crispy sweet potatoes.
Our friends ordered the Costilla de Res ($195 pesos). These short-rib tacos with Chinese mole, mango criolla, avocado, and huitlacoche aioli were also amazing. All tacos come three to a plate and are piled high.
Although I didn't try one of the many craft beers they offer, I did have a couple of their unique cocktails, which were also truly remarkable. This is an exceptional restaurant; don't wait as long as I did to give it a try.
I give Ascencio:

Francia 111-A, Versalles, 48310 Puerto Vallarta
Open 4-11:00 PM, Closed Sunday
Reservations: 322-160-4270
I welcome your comments or suggestions of restaurants to try at TheHungryCriticPV(at)gmail.com.
Click HERE to read more Puerto Vallarta restaurant reviews.