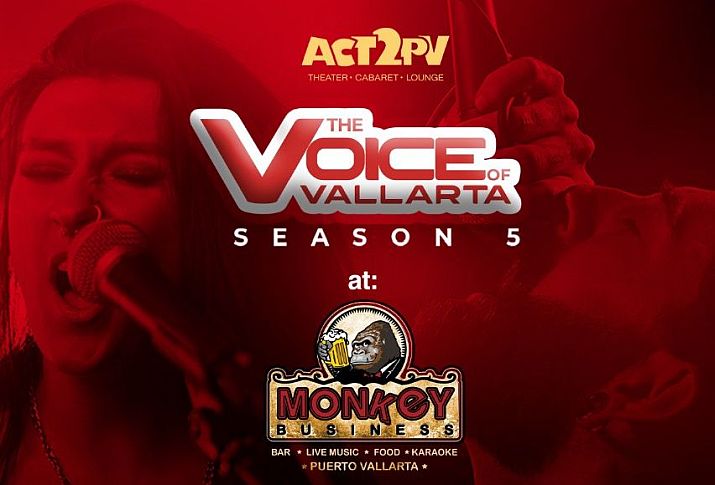 Puerto Vallarta, Mexico – Act2PV is thrilled to host the FINAL show of this season's Voice of Vallarta competition! It has been an exciting experience for all the contestants, as well as the audience, and everyone else who has been involved.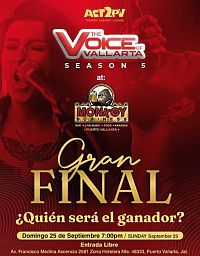 This final show will be presented in the beautiful Monkey Business Bar in the Puerto Vallarta Hotel Zone, and is FREE to the public!
There are five finalists, including Diana Lisbeth Florez Inez, Luis Antonio Munguia Quintero, Bernie Bonatti, Renata Perez Diaz and Patriz Lojan. These amazing singers have worked very hard during the eight weeks of competition, and each of them is a winner in their own right. They have performed different songs from different genres each week, and their musical/performance abilities have grown immensely during this experience.
What: Voice of Vallarta, Season 5 – Grand Finale!
When: Sunday, September 19 – 7:00 pm
Where: Monkey Business Bar, Av. Francisco Medina Ascencio 2581
This final performance will include a song of each contestant's choice, as well as a song that the judges have picked for them to sing. The finale is sure to be heartwarming and exciting for everyone in attendance!
Please come on Sunday evening and support these wonderful contestants. Your support (and your vote) can make a big difference in someone's life! Also, thank you MONKEY BUSINESS BAR for hosting this event.

Designated by TripAdvisor as the #1 Entertainment Venue in the Banderas Bay and #2 on the list of 'Things to Do in Puerto Vallarta,' the Act2PV Entertainment complex is located on the corner of Insurgentes and Basilio Badillo on the South side of Puerto Vallarta. For more information, call (322) 222-1512, or follow Act II on Facebook. Click HERE to learn more about Act2PV.