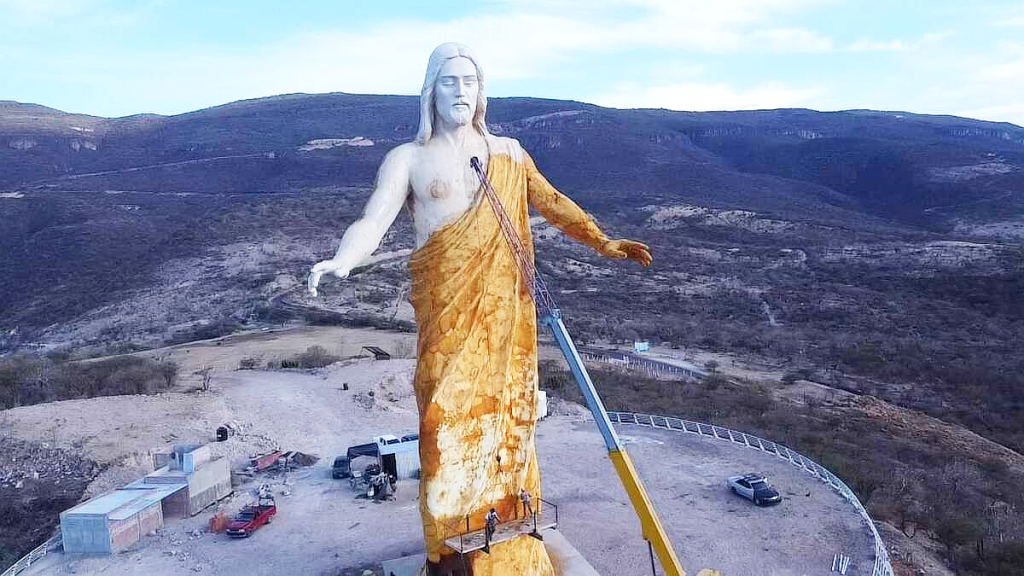 The largest statue of Jesus Christ in Mexico and Latin America will be unveiled in Tabasco, Zacatecas on Sunday, April 9, as part of the municipality's 2023 Festival de Ramos.
Initially announced in 2020, the 31 meters high monument will be taller than the Cristo Roto, which measures 28 meters and is located in San José de Gracia, Aguascalientes; the Cristo Rey, at 23 meters in Los Alamos, Tijuana; and the Cristo de las Noas, with 22 meters in Torreón, Coahuila, Mexico.
The colossal statue in Zacatecas, named Cristo de la Paz (Christ of Peace) will be even larger than the iconic Cristo Redentor (Christ the Redeemer) in Rio de Janeiro, beating out Brazil's landmark by a single meter.
While the statue of Cristo el Protector (Christ the Protector) in the town of Encantado, Brazil, claims the title of tallest Jesus statue in the Americas, it is standing on top of a significant pedestal. The new statue in Zacatecas stands a full 31 meters tall on its own.
On March 29 the municipal president of Tabasco, Gil Martinez, led the scenic lighting ceremony at the foot of the new statue. He pointed out that the Cristo de la Paz figure will be permanently illuminated, adding, "Very soon, this great monument is going to become, without a doubt, a tourist icon of Tabasco, of the Juchipila canyon region and of the entire state of Zacatecas. We are proud to have it here".
The monument will be officially inaugurated on the Cerrito de la Fe on Sunday, April 9. As part of the unveiling ceremony, there will also be a concert by the Zacatecas Symphony Orchestra, officials said.
With information from Milenio