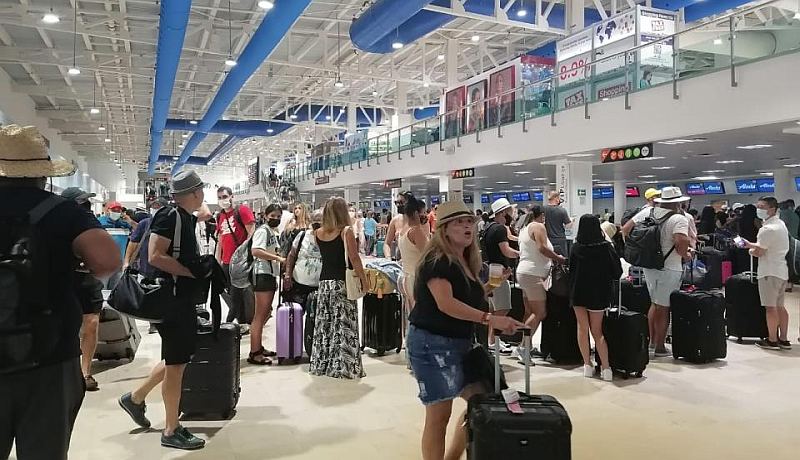 Mexico City – Up to 20.6 million international tourists flew into Mexico in 2022, up 46.3 percent from the previous year, according to a report released by the Mexican Government's Secretariat of Tourism (Sectur) on Sunday. Likewise, it was 8.2% higher than the number of tourists that entered the country by air in 2019, when 19.4 million international visitors were registered in Mexico airports.
Most international tourists came from the United States, Canada and Colombia, reaching 15.6 million in total, an increase of 39.5 percent over 2021, according to official figures. This represents an increase of 39.5 percent compared to 2021 figures, and 16.4 percent compared to the 13.4 million tourists that entered Mexico by air in 2019.
The head of the Sectur, Miguel Torruco, explained that, from the United States alone, 13 million tourists flew to Mexico in 2022, which is 27 percent more compared to 2021 and 23.7 percent higher than in 2019.
From Canada, Torruco indicated the arrival of 1.8 million tourists, 249.4% more than in 2021 and 23.8% below what was registered in 2019, prior to the Covid-19 pandemic.
In the case of Colombians, 854,840 tourists entered Mexico by air, exceeding the figure for 2021 by 88.8% and that of 2019 by 42.5%.
About 4,981,000 tourists of other nationalities were recorded. This is an increase of 72.7 percent compared to 2021, and represents a market share of 24.2 percent, the ministry said.
The Mexican official also reported that the Cancun, Mexico City International Airport (AICM) and Los Cabos airports received the largest number of international tourists in 2022. At these airports, 15.87 million tourists were welcomed, up 46.5% from 2021 and 8.2% in 2019.
The Cancun airport received the most international visitors during 2022 with the arrival of 9.5 million international tourists, 47.7% more than in 2021.