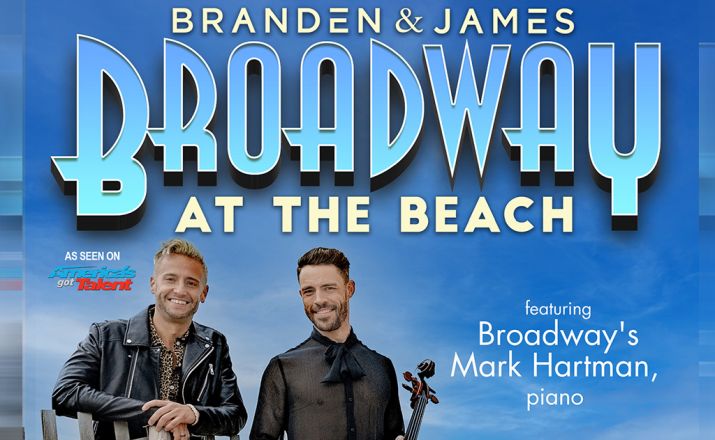 Puerto Vallarta, Jalisco, Mexico – This month, The Palm Cabaret and Bar debuts three new spectacular cabaret shows.
Branden & James in Broadway at the Beach debuts on Feb 15 at 6:30 pm. Branden's breathtaking operatic voice is absolutely stunning and James' mastery of the strings and piano and his cello accompaniment pierce the soul in the most delightful way. Together their harmonies are extraordinary and their musical accompaniment breathtaking. Performances happen on Tues at 6:30 pm and Thurs at 8:00 pm through March 1.
In Broadway at the Beach, Branden's vocals and piano accompaniment blend beautifully with James' magnificent cello and harmonies. Their musicianship is incredible and their delivery is breathtaking. "We have always loved the music of Broadway. It's been fun and rewarding to make it fit into our own, quirky, classical style. This show will be a night full of surprises, laughter, and maybe even a few cathartic tears," says Branden James, a published author & finalist on America's Got Talent. Australian cellist James Clark quips, "this show is so much fun because we get to play songs from roles that we would never be cast in."
Branden & James "have become a brand-name in the classical crossover music world alongside the likes of Josh Groban, The Piano Guys and Jackie Evancho" (The Bay Area Reporter, San Francisco.) Since their inception in 2015, the cello and vocal duo have been defying odds by reinventing the rules when it comes to classical crossover music. As a duo, they have traveled around the world playing in concert halls, cabaret venues, and luxury cruise lines.
Australian cellist James Clark is an arranger, orchestrator and concert pianist who has played alongside stars such as Idina Menzel & Olivia Newton-John. America's Got Talent finalist, Branden James, a native of California recently penned his first book, an award-winning memoir, Lyrics of My Life, published in September 2020.
Be sure to see Broadway at the Beach on Tuesdays at 6:30 pm and Thursdays at 8 pm from February 15 through March 1 at The Palm Cabaret.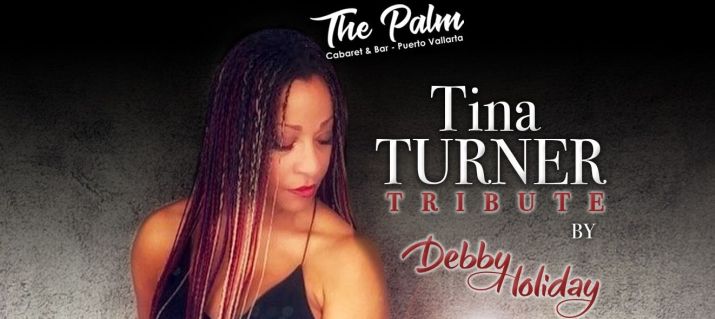 Debby Holiday's Tina Turner Tribute debuts at The Palm Cabaret on Thursday, February 17th at 6 pm. This high-energy performance happens on Thursdays & Saturdays at 6 pm, through March 5. Debby's unique sound is a mixture of soul & rock which makes her the perfect interpreter of all the Tina Turner classic songs.
The Queen of Music, Debby Holiday, has been involved in the music industry since she was a little girl. Her father, Jimmy Holiday, co-wrote many hit songs including the smash hit, "Put A Little Love in Your Heart."
Debby started to write songs at the age of 13 and broke into the dance scene and Billboard Top 10 with her songs, Dive, Joyful Sound and Half A Mile Away. In fact, Debby has had 17 Top Billboard Hits, 7 of which were in the Top 10.
Debby Holiday's tribute to Tina is less about trying to "BE" Tina & more about "BRINGING" Tina's energy & grit to the room. She doesn't don the wig or try to walk like her – but does share Tina Turner stories & great memories from Tina's life. Her goal is to bring the joy & passion of Tina to her audience.
Debby has shared the stage with legendary recording artists like John Waite and Rod Stewart, appearing on television shows including The View, The Rosie O'Donnell Show & The David Letterman Show. During her music career, she has toured and opened for Joe Walsh, Rod Stewart and Kiss.
Don't miss this amazing opportunity to hear a top performer in the music biz. Debby Holiday's Tina Turner Tribute (on Thurs & Sat at 6 pm) is a show you'll definitely want to see!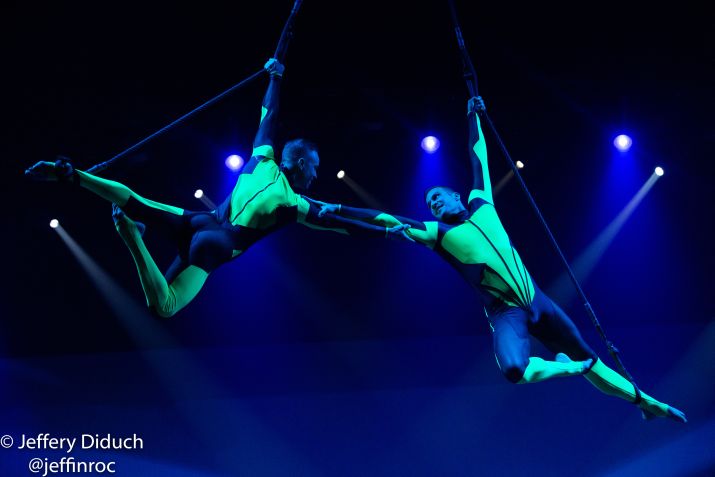 The Palm Cabaret debuts another spectacular show this month. AirOtic Soiree will be hosted at Industry Nightclub in PV to accommodate this world-class acrobatics performance. You'll thrill to the unbelievable stunts and incredible Adonis physiques of the performers. Not often, does a show of this caliber come to town. AirOtic Soiree is hosted at Industry Nightclub on Friday and Saturday, Feb. 11 & 12 at 8 pm and then moves to Tuesdays & Thursdays at 8 pm for the season. Tickets are available through The Palm.
Tickets for all shows can be purchased at the venue's box office, or online at ThePalmCabaret.com. For your safety, the venue has added ventilation, social distancing, masks and reduced capacity. This means you can feel comfortable while enjoying all of the great performances at The Palm.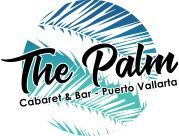 The Palm Cabaret and Bar is located at 508 Olas Altas in the heart of the Puerto Vallarta Romantic Zone. Tickets can be purchased at the venue's box office, which opens daily at 10:00 am, or online at ThePalmCabaret.com.
For more information, click HERE, call (322) 222-0200, visit their website, or follow The Palm Cabaret and Bar PVR on Facebook.