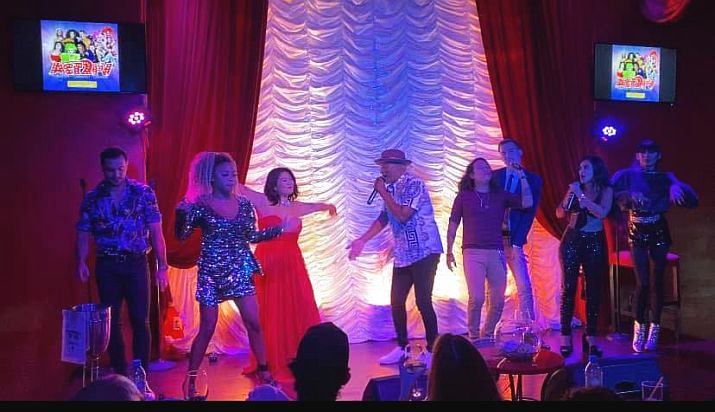 Puerto Vallarta, Jalisco, Mexico – It's pretty obvious that Puerto Vallarta has become a summer tourist destination. That's why Act2PV is committed to continuing to offer 5-star entertainment for the summer season, including It's Raining Men, The Best of Broadway, Jersey Boys, and many other great shows!
Bringing you the BEST OF THE BEST entertainment for 2022, Act2PV is the only 5-star venue in Vallarta and it truly has something for everyone, including high-quality theatrical productions, internationally renowned musical cabaret, and hilarious drag shows. For descriptions of all the shows, go to act2pv.com.
Act2PV's incredible entertainment, with its amazing sound and lighting systems, is on par with any theater in North America… at a very affordable price! Come early and enjoy a drink in the beautiful, fully-equipped Encore bar. Drinks are also served during the show for your enjoyment.
Act2PV has been designated by TripAdvisor as the #1 Entertainment Venue in the Banderas Bay and #2 on the list of "Things to Do in Puerto Vallarta!"
Here are some of the 5-star reviews on TripAdvisor about Act2PV:
"Any night of the week is the right night to visit Act2PV…!"
…Act2PV is back, it's professional and worth your visit after time at the pool or beach."
"…Go catch any of the shows at ACT2PV, you will be entertained, BTW I am a local not a tourist, I highly recommend this show!"
"Covid kept us debating whether to go to ACT2PV. We were so glad that we decided to go. The voices, the choices of Broadway songs, the dancing all took us away from the world of the pandemic and lifted our spirits!"
Please check out the thousands of 5-star reviews for "Act2PV" on TripAdvisor, GoogleMyBusiness.com, Facebook and other social media. For more information, or to buy tickets, go to act2pv.com. You can also get your ticket at our box office, now open 2:00-10:00 pm Monday to Saturday (closed on Sunday).

Danny Mininni Memorial
The Greatest Show: The Life of Danny Mininni
All regular shows are canceled on Friday, May 6, so that the Act2PV staff and performers can participate in the Celebration of the Life of Danny Mininni. Thank you for your understanding.

It's Britney, B*tch!
A musical celebration of Britney Spears, featuring Ximena Esparza
EXTENDED BY POPULAR DEMAND! April 30, May 14 & May 28 at 7:00 pm
Do you love Britney? Do you feel like dancing? Do you know the words to all of her songs? Do you feel like celebrating Britney's new-found freedom?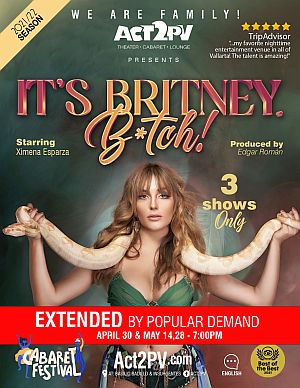 Ximena Esparza appears in an exciting new cabaret show celebrating the music of one of the most successful artists of all time, 90's Pop Princess, Britney Spears! Her music defined a generation, with hit after hit screaming to the top of the charts and lighting up dance floors around the world! Her energy, sassiness, sex appeal, and vivaciousness are legendary and she has inspired people of all ages, making her a global icon.
Ximena is no stranger to the Act2PV stage. She appeared in its first production, Chorus Line, and has been cast in almost every Act2PV production ever since! She is now performing in the lead role of Sophie in Act2PV's Mamma Mia! and also stars in Act2PV's highly-acclaimed show, The Best of Broadway. Ximena's incredible energy, stage presence, spectacular dancing skills, and brilliant vocals are put to use perfectly in this energy-packed show, produced by Edgar Román and Alfonso López.
TripAdvisor 5 Star Reviews:
"Better late than never but I wanted to leave a very very positive review for the show I saw last night with three of my friends. I cannot tell you how much we enjoyed this and we were amazed at the choreography probably the best dance choreography show we've seen in Vallarta, and I can't recommend this enough…This girl put her heart and soul into this show and again the dancing and the choreography is among the best I have ever seen here in Vallarta. I can't say enough good things about her show. It's Britney, B*tch! Go see it!!"
"I was amazed with the talent of Ximena Esparza and her dancers! Her stage presence and talent are outstanding! This is the best show I have ever seen at Act2PV so far. Terrific chorus, beautiful live vocals, it's more than professional! Ximena and Edgar produced a HIT! The audience was crazy! They had a STAND OVATION that lasted 2 minutes! We can't wait to see her again! If you in town you definitely can't miss this show. Highly recommended."
Tickets are available at act2pv.com, or at the box office, now open 2:00-10:00 pm Monday to Saturday (closed on Sunday).
SPECIAL SHOWS COMING SOON!

Monday, May 9 at 9:30 pm
Amor, Amor – A tribute to José José, featuring Diego Guerrero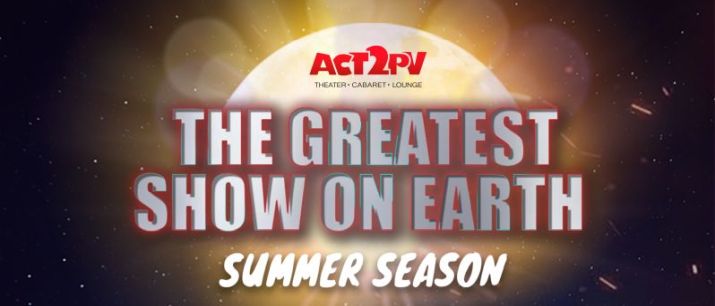 Wednesday, May 11 at 7:00 pm
The Greatest Show on Earth – Opening Night
"The Greatest Show on Earth" is coming back this summer and will be featured in Act2PV's INDOOR, fully air-conditioned Red Room! During the pandemic, Act2PV rolled out a whole new style of entertainment, and it was definitely a HIT (as evidenced by its full house every week.) On Wednesday nights, you can see a FREE SHOW featuring performances by Act2PV's incredible entertainers! Sometimes they sing songs from their own shows, but very often, they "go rogue" with new show ideas! Everyone loves this new concept and this free show is definitely worth your time! Donations are much appreciated and are divided among the performers. Make your reservation today for this fun, FUN, event!

Tuesday, May 17 at 7:00 pm
This is Amy! – A tribute to Amy Winehouse, featuring Brenda Gaviño

Act2PV Showguide (April 29 – May 6)
Always check the website at act2pv.com for any last-minute changes to the show schedule.
Fabulous Friday, April 29
7:00 pm – The Best of Broadway, Act2PV's blockbuster musical revue featuring singing and dancing from your favorite Broadway musicals
9:30 pm – It's Raining Men – Sexiest male dancers in Puerto Vallarta are sizzling with sensual choreography, sexy strip tease, seductive music, and the hardest bodies you've ever seen!
Savvy Saturday, April 30
6:30 pm – Queens of Country – Bobbi Goddard pays comedic and musical tribute to the women who made their mark in country music
7:00 pm – It's Britney, B*tch! starring Ximena Esparza (Extended by Popular Demand!)
7:30 pm – TINA, a Tina Turner tribute starring PV's Queen of Entertainment, Diana Villamonte
9:00 pm – Broadway Backwards, The handsome and talented Louis Whitaker puts a new twist on your favorite Broadway show tunes that were originally written for a woman!
Super Sunday, May 1
7:00 pm – Follies LaRouge – Vaudeville, Broadway, & Burlesque show, produced by NYC choreographer, Kim LaRue
7:30 pm – So Much Soul, featuring Vallarta's very own soul-singer, Kevin-Anthony and his LIVE ROXSAND BAND, singing the soul classics of our lifetimes!
9:30 pm – Shine starring Stevie Hart (the drag alter ego of Steven Retchless) who will mesmerize you with her 8-inch heels, sultry voice, sensual dancing, and fiery/heart-warming story-telling that will make you laugh and cry at the same time
Marvelous Monday, May 2
7:00 pm – Whitney Houston Show The Queen of PV entertainment and Voice of Mexico Runner-Up, Diana Villamonte, presents her tribute to Whitney Houston, featuring her LIVE BAND
7:30 pm – Supreme! a musical revue inspired by the greatest girl groups of all time
9:30 pm – Reveal Sexy "Peek-a-Boo Revue." You'll be immersed in provocative and cheeky, sultry and delightfully decadent fun
Terrific Tuesday, May 3
6:00 pm – Bruno Mars Tribute, featuring the #1 front man of Puerto Vallarta, Victor do Espirito
7:30 pm – Jersey Boys, featuring Marc Lopez in a quartet of handsome guys, singing and dancing to the music of The Jersey Boys, Frankie Valli and the Four Seasons
Wonderful Wednesday, May 4
8:00 pm – It's Raining Men – Sexiest male dancers in Puerto Vallarta are sizzling with sensual choreography, sexy strip tease, seductive music, and the hardest bodies you've ever seen! Also featuring the amazing vocalist, Joi Carter (star of Classic Motown Revue & Donna Summers), as Mistress of Men!
Thankful Thursday, May 5
7:00 pm – Mamma Mia! the Broadway Musical, featuring the full cast.
7:30 pm – Classic Motown Revue, The incredible Motown singers, Kevin-Anthony, Lauren J Stovall and Joi Carter, recreate the signature Motown sound of the 60's with memorable tunes, catchy rhythms, and creative dance moves (Change of Day/Time)
9:30 pm – Raunch Dressing, starring hilarious NYC drag icon, Hedda Lettuce, in a drag show, featuring green hair, crisp stand-up comedy, quick wit and fresh comedic songs
Fabulous Friday, May 6
6:30 – Danny Mininni Memorial – The Greatest Show: The Life of Danny Mininni
Be sure to check out the many reviews for Act2PV shows on TripAdvisor, Google and Facebook, then go to act2pv.com for more show information, additional performance dates, and to purchase your tickets. Payment by PayPal (VISA & MasterCard) now available online on our website! Tickets are also available at the box office, now open 2-10 pm Monday to Saturday (closed on Sunday).

The Act2PV Entertainment complex is located on the corner of Insurgentes and Basilio Badillo on the South side of Puerto Vallarta. For more information, call (322) 222-1512, or follow Act II on Facebook. Click HERE to learn more about Act2PV.