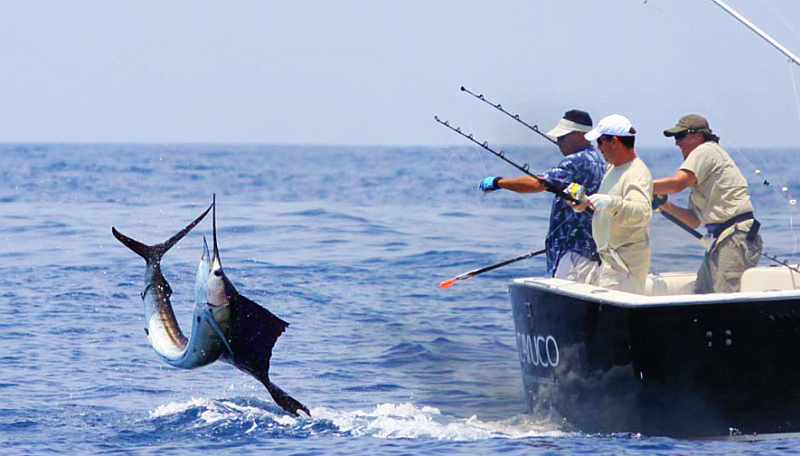 Puerto Vallarta, Mexico – The 66th Puerto Vallarta International Fishing Tournament came to a close on Saturday with the El Mexicano team winning the $500,000 peso prize in the marlin category with a catch of 258.2 kilos. The EXU team came in second in this category taking home $250,000 pesos for a marlin weighing 196.6 kilos.
In the Sailfish Catch and Release category, the winners were the Madtown Anglers team with 3 videos presented, leaving behind the Cachi team that, although they also presented three videos, came in second place since the winner was decided by the time that the videos were presented to the judges.
Where great expectations were experienced was in the Dorado category where, during the final minutes before the closing of the competition, the Valhalla team presented a specimen weighing 15.5 kg and taking home the first place prize of $100,000 pesos, beating out the Blue Magenta team's 11.6 kg Dorado.
Finally, in the Tuna category, three catches were presented. The Madtown Anglers team was the category's absolute winner of the $200,000 peso prize with a specimen of 82.0 kilos. Minutes later, the Sea Senior boat arrived with their specimen of 76.2 kilos, putting them in second place in this category.
The El Mexicano team was awarded as the best crew of the tournament for its outstanding participation in this 66th edition of the Puerto Vallarta International Marlin and Tuna Fishing Tournament. They took home two gift certificates of $5,000.00 Mexican pesos each, good for fishing gear at the Zaragoza Marine Boutique.
As a special mention, a recognition was given to Mr. Saúl Barajas Contreras for his great dedication and career of more than 8 years as treasurer of the Puerto Vallarta and Bahía de Banderas Fishing Club.
The municipal tourism director, Lic. Ludwig Estrada Virgen, ended the awards ceremony with a speech, in which he divulged the date of the next edition of the Puerto Vallarta International Marlin and Tuna Fishing Tournament, which will be from November 8 to 11, 2023.
Sources: El Vallartense • fishvallarta.com