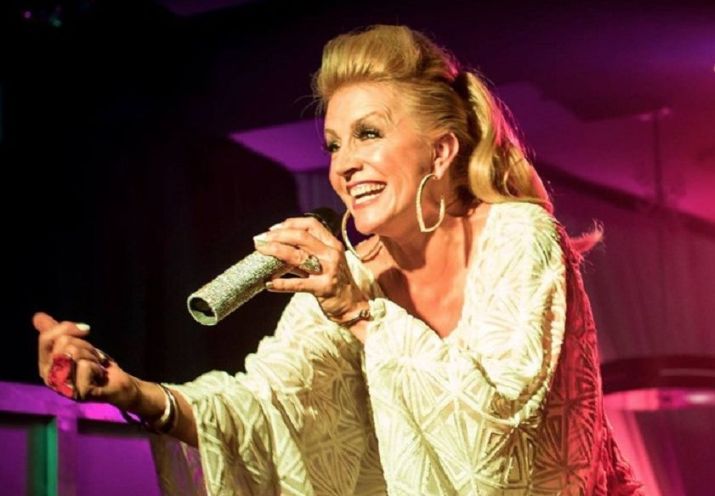 Puerto Vallarta, Mexico – Kim Kuzma continues to be a very popular member of the entertainment community in Puerto Vallarta. Having landed here 18 years ago, Kim has performed every winter at various clubs and venues around town and has a following of devoted fans.
Her fame is not limited to our town, as she continues to offer outstanding shows across Canada, the U.S. and worldwide with Brand G Vacations cruises. Her multi-year residency in the quaint town of Ogunquit, Maine put her on the map musically in New England as well.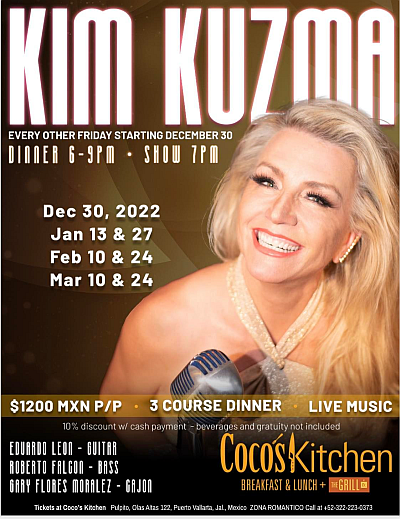 I recently had the opportunity to catch her Dinner Show at Coco's Kitchen and it was a night to remember! Kim was in top form as an entertainer. Backed by Eduardo Leon on guitar, Roberto Falcon on bass and Gary Flores on percussion, Kim delivered a dazzling evening of music, comedy and enjoyment for her audience. Before the show, she even went from table-to-table meeting and greeting her audience.
Kim and the band are masters of musical mashups, taking a popular tune and mixing it with a Latin song/ rhythm. This was their signature style for many years at The Palm Cabaret and was extremely popular. We enjoyed revisiting this beautiful expression of music that Kim and the band flawlessly offered.
To the delight of the audience, the ever-so-talented Mexican singer, Enrique De Allende joined Kim's show for several songs. As music producer, David Foster has exclaimed, Enrique could well be the next Julio Iglesias. With a voice as beautiful and powerful as Enrique's, one can only wonder "when" not "if" this musical protege will be discovered by the rest of the world. Kim and Enrique have a beautiful, mischievous friendship that entertained us all as they bantered back and forth.
I would be hard-pressed to imagine a more perfect night of entertainment. All I can say is that Kim and the band nailed it and you do not want to miss this show! This is exactly what a dinner show should be: A night of outstanding food, fun and music in the gorgeous gardens of Coco's Kitchen. The stories and comedy between songs were fabulous and musically, Kim and the band offered what could only be described as a STELLAR performance. I loved the emotion and truth that they gave to each and every gorgeous song mix.
You will be enthralled by Kim's genuine, charismatic showmanship. With fun, personal warmth, enthusiasm, talent and sex appeal, Kim Kuzma continues to be Vallarta's 'Darling Diva of Song,' and demonstrates year after year her incredible musical talent and creativity.
For an evening that you won't soon forget, catch Kim Kuzma's Dinner Show at Coco's Kitchen, every other Friday night this season. Come experience what many of us have known for 18 years. Kim Kuzma is one of the best multi-talented musical stars in Vallarta. She will touch your heart and give you a night to remember!
Book early if possible, because this show fills up quickly. The next Dinner and a Show with Kim Kuzma happens on Friday, Jan 27th. Doors open at 6 pm and the show starts at 7 pm.
Tickets for this very special dinner/show always sell out, so act quickly. Tickets are $1,200 pesos (with a 10% discount when paid in cash) and can be purchased at Coco's Kitchen or by calling the restaurant at 322-223-0373. (*Drinks & tips for the servers are not included.)
Coco's Kitchen is located at Pulpito #122, on the south side of Puerto Vallarta.
*On weekdays, you can also find Kim Kuzma at Ryan Donner & Assoc. helping to make your real estate dreams become a reality. You can reach Kim at kim(at)ryandonner.com