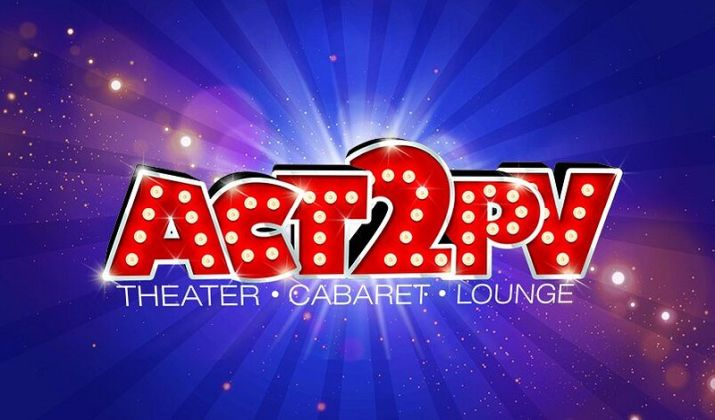 Puerto Vallarta, Mexico – As we near the end of the 2022/2023 entertainment season, Act2PV wants to extend a big thank you to all the amazing individuals who joined us this year. Your unwavering love and support have been a constant source of inspiration, and we couldn't be more grateful for your presence.
But wait, don't get all sad just yet! Act2PV still has a few surprises up its sleeve to end the season with a bang! Even though many of our shows are wrapping up this month, we have some exciting new events and performances lined up just for you. So, get ready to be thrilled and entertained by these fantastic shows that we have in store for you in May!
PLAYING THIS WEEK AT ACT2PV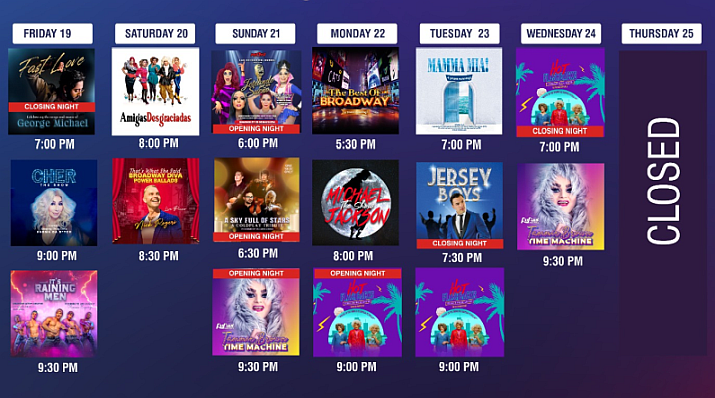 2X1 DISCOUNTS ON SOME SHOWS: As a special thank you to our loyal locals, we're offering a 2×1 deal on some of our shows! Visiting tourists can get 2×1 tickets on six of our most popular shows, too! For more information, call 322-222-1512, stop by the box office, or send a message to info(at)act2pv.com.
NEW SHOWS IN MAY

Time Machine
featuring International drag queen, Tammie Brown
May 21, 24 & 28 – 9:30 pm
Get ready to werk it with Tammie Brown, the legendary drag queen diva from Season 1 of RuPaul's Drag Race! That's right, the one and only Tammie Brown is back and bringing her smash hit show to Act2PV! It's time to spill the beans on Tammie's "Time Machine" – it's not just any ordinary show, it's an extravaganza of fabulousness! Tammie serves up lewks for days and will have you gagging with her sickening stage presence. Get ready to gag on drag, honey! As a seasoned veteran of the international drag community, Tammie has a certain "X-FACTOR" that sets her apart from the rest. Her all-original comedy will have you cackling with laughter, and her stories of the past, present, and future will leave you begging for more. So, don't be a basic queen – snatch your fiercest wig and get ready to werk it with Tammie Brown and her "Time Machine!" This is the show of the season and you don't want to miss out, darling!

The Golden Gays: Hot Flashbacks!
A Golden Girls Musical Adventure
May 22 & 23 – 9:00 pm
May 24 – 7:00 pm
ATTENTION, GOLDEN GIRLS FANS! Have you heard the news? Sophia Petrillo has gone missing! It's time for your favorite gal pals, Dorothy, Blanche, and Rose to hit the road and embark on a hilarious and unforgettable journey to find her. Will they find her sipping on a cocktail at the Rusty Anchor or baking a cheesecake in their kitchen on Richmond Street? Who knows! Join the fun as these hip old grannies take you on a musical adventure through some of The Golden Girls' most iconic moments. Get ready for side-splitting laughter as they relive their hot flashbacks and sing their way through the ups and downs of their lives. But that's not all! The audience is in for a treat as some lucky members will get a chance to make their stage debut and become the next #TokenSophia. And let's not forget the dancing, live singing, and…bears? Yes, you read that right! This show has got it all. So what are you waiting for? Toto, we're not in Miami anymore, sugar. It's time to hop on board and join the Golden Girls gang on this wild and hilarious ride. Get your tickets now before they're all gone!

A Sky Full Of Stars
A Coldplay Tribute by Vallarta Strings
ONE NIGHT ONLY – Sunday, May 21 – 6:30 pm
Join us for a magical night full of music and emotion with "A Sky Full of Stars – A Tribute to Coldplay." Experience a unique and special evening with Vallarta Strings performing the most iconic and beloved songs by Coldplay, the famous British band, from "Yellow" to "Viva la Vida" and "Paradise," in exclusive arrangements for this occasion. The beautiful melodies of Coldplay will come to life with the exceptional talent of Vallarta Strings, a string quartet that has captivated audiences in Puerto Vallarta and beyond with their virtuosity and passion for music. Led by their founder and director, the talented Adrian Fuentes, Vallarta Strings will add their own unique touch to the tribute to Coldplay, showcasing their versatility and musicality as they bring the songs to life in an unforgettable way. Don't miss this opportunity to witness the magic of Vallarta Strings and their tribute to one of the most beloved bands of all time. Let yourself be carried away by Coldplay's touching melodies and lyrics in an intimate and cozy atmosphere at the main stage of Act2PV This will allow us to immerse ourselves in the world of music in a unique way. It will be an unforgettable show that you can't afford to miss. Get your tickets now!

The Show Must Go On
featuring the Puerto Vallarta Gay Men's Chorus
ONE NIGHT ONLY – Sunday, May 28 – 6:30 pm
The Puerto Vallarta Gay Men's Chorus is proud to present their Vallarta Pride Concert 'The Show Must Go On' for one night only – Sunday, May 28 at 6:30 pm – at Act2PV. Led by artistic director Adrián Fuentes and featuring Adriana María Martínez on piano, the concert will include some of the most iconic choral songs. They will also welcome guest artist Tonny Kenneth to the stage, who will add his own unique flair to the performance. The 'The Show Must Go On' concert aims to raise funds for the chorus and will feature an auction and raffle so that you can support them while enjoying the music. Everyone is welcome to join them on this special night that celebrates Vallarta Pride.
Joteando Por Un Sueno
The brothel girls are back!
Sunday, May 21 & 28 – 6:00 pm
Hold onto your seats and grab some popcorn, because the brothel girls are back and they're bringing some serious sass to the stage during Vallarta Pride Week! This time, they're joined by the one-and-only "La Supermana" – a TV personality/turned activist with a heart of gold (and a mouth that's just as fiery as the brothel girls themselves). Joteando Por Un Sueño is the show that's got everyone talking – it's a cabaret extravaganza with a dash of comedy, a sprinkle of glitter, and a whole lot of danger (seriously, don't try this at home). We've got four contestants, four dreamers, and a panel of judges that won't hesitate to bring the heat. Come on down and join Marina Saucedo, Karma La Perra, Miss BiBi, and the incredible La Supermana, as they team up for a night of wonder and magic. Witness the madness for yourself! They'll be performing on May 21 and 28 at 6 pm, and trust us, you won't want to miss it. Bring all your friends and get ready to have the time of your life. Vallarta Pride won't know what hit it!

Voice Of Vallarta Auditions
Saturday & Sunday, May 27 & 28 – 1:00 pm
Now's your chance to become the next "Voice" of Vallarta!
Attention, Singers! The highly anticipated Voice of Vallarta vocal competition is finally here! Act2PV is proud to announce that auditions for the sixth season of the Voice of Vallarta are officially open! Save the date for May 27th or 28th, and prepare to showcase your exceptional singing abilities.
But wait, there's more! The actual competition will begin on Sunday, June 25th, and will run for six consecutive Sundays, allowing ample time to for you to hone your craft and display your amazing vocal abilities. And that's not all – the grand prize winner will receive a very generous cash prize, along with a host of other awards and opportunities!
Still unconvinced? Well, previous contestants have had the privilege of performing on Act2PV's magnificent stage, as well as other, with some even being given their own shows! The Voice of Vallarta is the ultimate gateway to stardom and a launching pad to greater heights.
So what are you waiting for? Prepare the music tracks for two of your favorite songs, in either English or Spanish, on a USB and join us on Saturday, May 27 or Sunday, May 28, and impress our judges with your incredible singing skills! Don't miss the chance to become the next Voice of Vallarta! Please feel free to contact us at info(at)act2pv.com if you have questions.

SHOWS CLOSING IN MAY
Fast Love, a George Michael tribute – Friday, May 19 at 7:00 pm
Cher, The Show – Fridays, May 19 & 26 at 9:00 pm
It's Raining Men – Fridays, May 19 & 26 at 9:30 pm
Amigas Desgraciadas – Saturday, May 20 at 8:00 pm
That's What She Said – Saturdays, May 20 & 27 at 8:30 pm
Mamma Mia! – Tuesday, May 23 at 5:30 pm
Jersey Boys – Tuesday, May 23 at 7:30 pm
Future Nostalgia, a Dupa Lipa Tribute – Saturday, May 27 at 7:00 pm
It's Britney B*tch – Saturday, May 27 at 9:00 pm
The Best of Broadway – Monday, May 29, 2023 at 5:30 pm
Michael Jackson, The Show – Monday, May 29 at 7:00 pm
Tickets to all shows are available NOW at the Act2PV box office, open daily from 3:00 to 10:00 pm, and online act2pv.com. Cash, Visa, Mastercard, American Express, Discover accepted at the box office, and Paypal accepted for payments online.

The Act2PV Entertainment complex is located on the corner of Insurgentes and Basilio Badillo on the South side of Puerto Vallarta. For more information, call (322) 222-1512, or follow Act II on Facebook. Click HERE to learn more about Act2PV.