Puerto Vallarta, Jalisco, Mexico – Two of the things I enjoy the most are to be outdoors in nature and to relax, and the hike to Las Animas Beach offers the perfect balance of exercise and relaxation. This hike starts in Boca de Tomatlán, a sleepy, beachfront village about a 20 minutes' drive south of downtown Puerto Vallarta.
We like to take our dogs with us, as they also get to play on the beach, in the shallow waters at the mouth of the Tomatlán River. The hike begins by crossing a small footbridge over the Horcones River and takes us past homes that have dogs in their yards so we keep ours on a leash until we leave the houses behind before setting them free to walk along beside us.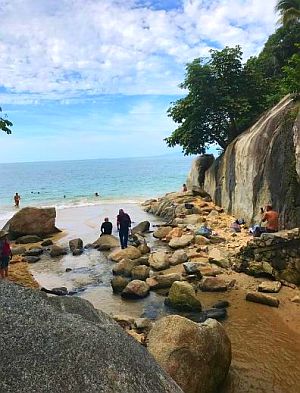 The trail goes along the coast and we really enjoy seeing the beaches and coves while we hike. There are several signs along the path so you know where to go and where to turn. The locals have also built stairs in some areas, as they use this trail to get to and from Las Animas, or follow the trail even further to another village called Quimixto.
The first part of the hike is the hardest as you have to climb a small hill, but soon you find yourself following a dirt road under the shade of the forest canopy, while you still see the ocean and even some coves through the lush vegetation. Then, as if out of a movie, you see the turquoise water of Colomitos Beach. This is a small cove that is only about 24 meters (26 yards) wide, but it is quickly becoming a popular spot for tourists and locals alike.
You could choose to stay there and enjoy the beach, but we like the exercise, so we continue on to Las Animas. After passing Colomitos Beach, the trail continues in ups and downs but still under the shade of the forest canopy or along other sandy beaches. It feels nice to take your shoes off and just relax while you get your feet wet.
Other places of interest along the hike are La Troza, Casitas Maraika and Hotelito Mio, three small boutique resorts where you can spend a few days, if peace and quiet is what you're looking for. Then you get to Las Animas Beach, a vibrant sandy beach with several restaurants to choose from. This is a very popular beach with the bay cruises, which means it can get crowded by noon, so we like to get there before they arrive, enjoy a nice lunch and then head back to Boca de Tomatlán on a boat by 3 pm, a nice way to end the hike.
There are a lot of fun things to do in Puerto Vallarta and, if you are considering purchasing a home here, don't hesitate to email me at alfredoh(at)tropicasa.com, or call me on my cellphone at 322-142-6296.

When you are ready to buy your dream home, villa, condominium or piece of land in Puerto Vallarta, contact local real estate agent Alfredo Herrera. Having worked in the Puerto Vallarta / Riviera Nayarit real estate market since 2006, Alfredo has the knowledge and experience to help you find, and purchase, the property that's right for you – in the most seamless way possible. For more information, click HERE, call him at +52 322-142-6296 or visit PuertoVallartaRealEstateExpert.com.