Puerto Vallarta, Mexico – After selling out every show during her month-long residency in January at Nacho Daddy, everyone's favorite 'Diva Loca,' Amy Armstrong, who is known for having 'the voice of an angel and the mouth of a sailor,' returns to Puerto Vallarta for one night only on Wednesday, February 20 at 9:00 pm.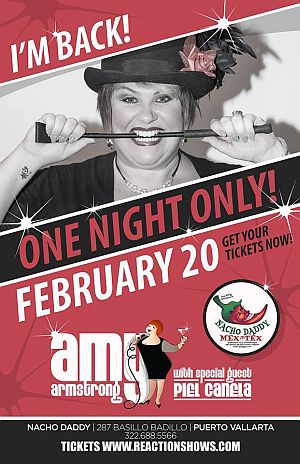 Cited by Vallarta Lifestyles as a 2015 winner in the magazine's annual 'Best of Vallarta' edition, Amy's long-running, well-deserved popularity continues to grow with her willingness to find a new creative project or two for herself each season.
This season, Amy shared the stage with the extraordinary local band, Piel Canela, to bring her new show, 'Respect the Queen,' to Nacho Daddy. Featuring songs by Aretha Franklin and Freddy Mercury/Queen, like Natural Woman, Say A Little Prayer, We Are the Champions and Crazy Little Thing Called Love, and more, Amy and the boys wowed Puerto Vallarta audiences night after night.
In a world of auto-tune, lip-sync, and vocal augmentation – to hear a rich, natural, projective voice like Amy Armstrong's is an affirmation that true vocal talent still exists! Her dynamic personality, comedic wit, and soulful voice, complemented by Piel Canela's unique musical adaptations, kept fans coming back time and time again – and left them wanting more.
So, by popular demand, Amy will return to Puerto Vallarta on Wednesday, February 20 for an encore performance of 'Respect the Queen.' If you are a fan of live entertainment, don't miss your last chance this season to enjoy an original and satisfying evening of entertainment at Nacho Daddy.
Given the popularity of this show, which hits the stage at 9:00 pm, we recommend that you get your tickets TODAY at Nacho Daddy, at Basilio Badillo #287 in the heart of Puerto Vallarta's Romantic Zone, or online at reactionshows.com. General Admission: $30.00 USD.
Consistently receiving rave reviews on TripAdvisor, Nacho Daddy Mexico is the premier sports bar and restaurant in Puerto Vallarta. Open daily from 11 am to 12 am for lunch, dinner, live music (with no cover charge!) and lots of fun, this popular south side hangout is located at Basilio Badillo #287, only two blocks off the beach in the heart of the Romantic Zone. Credit cards accepted. For more information, visit NachoDaddyPV.com or or become a fan on their Facebook Page for promotions, daily specials and more.Click HERE to learn more about Nacho Daddy Mexico Restaurant & Sports Bar.