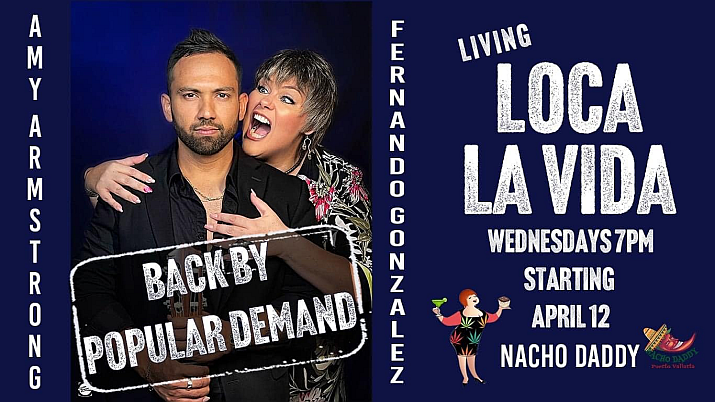 Puerto Vallarta, Mexico – After selling out most every show during her winter residency in Puerto Vallarta, everyone's favorite 'Diva Loca,' Amy Armstrong, who is known for having 'the voice of an angel and the mouth of a sailor,' returns to Nacho Daddy with a new show, 'Living Loca La Vida,' which opens on April 12th at 7:00 pm and plays every Wednesday through May 17, 2023.
In a world of auto-tune, lip-sync, and vocal augmentation – to hear a rich, natural, projective voice like Amy Armstrong's is an affirmation that true vocal talent still exists! Her dynamic personality, comedic wit, and soulful voice, complemented by Fernando Gonzalez's rich voice and unique musical adaptations, kept fans coming back time and again – and left them wanting more.
For the few folks in Vallarta who aren't familiar with Amy, she is that unique mix of stand up comedian and cabaret singer. When you experience this 'Diva of Song and Fun' you'll be drawn in, entertained, and uplifted. Armstrong's incredible voice mesmerizes as she belts out fabulous tunes, injecting humor between each song.
When Amy sings and entertains, she touches the hearts of everyone with her breathtaking talent and quick wit. Her comedy is always perfectly delivered and her singing is phenomenal. And when the show is over, audiences always leave with smiles on their faces.
So, by popular demand, Amy and Fernando will return to Nacho Daddy at 7:00 pm on April 12 and play every Wednesday through May 17, 2023. If you are a fan of live music, don't miss your last chance(s) this season to enjoy an original and satisfying evening of entertainment.
For tickets, stop by Nacho Daddy or go to eventbrite.com.

Open daily from 11 am to 12 am for lunch, dinner, live music and lots of fun, this popular south side hangout is located at Basilio Badillo #287, only two blocks off the beach in the heart of the Romantic Zone. Credit cards accepted. For more information, visit NachoDaddy.mx or become a fan on their Facebook Page for promotions, daily specials and more.
Click HERE to learn more about Nacho Daddy Restaurant & Sports Bar.