Puerto Vallarta, Mexico – Amy Armstrong has been entertaining Puerto Vallarta audiences for over a decade. This season, Amy brings her new show, 'Viva La Diva!' to Nacho Daddy starting on Saturday, January 5th at 9:00 pm. She'll be performing every Monday, Wednesday, and Saturday (and some Thursdays) for a month.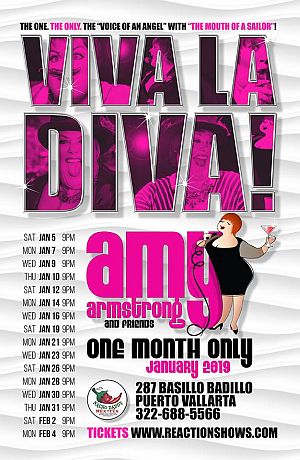 There will also be special guest appearances by some of Puerto Vallarta's best known musical stars. Amy will share the stage with the extraordinary band, Piel Canela each Wednesday and Saturday, and with Fernando Gonzalez on acoustic guitar on Mondays.
The theme on Wednesday and Saturday nights is 'Respect the Queen' and will feature the songs of Aretha Franklin along with the music of 'Queen/Freddy Mercury.' You'll hear favorites like, Natural Woman, Say A Little Prayer, We Are the Champions and A Crazy Little Thing Called Love, to name a few.
Monday nights with Fernando will cover some of the music that you've heard in Amy's past shows, some tunes from the new movie "A Star is Born," and some audience requests.
Amy is a unique mix of stand up comedian and cabaret singer. As an entertainment writer, I get to see a lot of shows each season and Amy's are some of the very best! Her audience absolutely loves her and roars with laughter at her spontaneous 'off the cuff' comedy. All eyes are glued to the stage when Amy sings and entertains. And when the show is over, the audience always leaves with smiles on their faces.
When you experience the 'Diva of Song and Fun,' you'll be drawn in, entertained and uplifted. Armstrong's incredible voice mesmerizes as she belts out all those fabulous tunes, injecting humor between each song.
The comedy is always perfectly delivered and the singing is phenomenal. For a totally satisfying and magical 'live music' experience, see Amy Armstrong's, Viva La Diva! at Nacho Daddy from January 5 through February 4.
For tickets, call Nacho Daddy at 322-688-5566 or go to reactionshows.com. The show will be on the second-floor stage of Nacho Daddy on Basilio Badillo #287 in the heart of Zona Romantica.
For North Shore folks, Amy will be performing 'Viva La Diva' on January 7th at 7 pm at the Tree House Bar in La Cruz. Tickets are available by calling the venue at 322-182-4026. On January 11th, Ms. Armstrong will present her show at Luna Lounge in El Centro, Bucerias. For dinner/show reservations go to lunaloungebucerias.com.

Consistently receiving rave reviews on TripAdvisor, Nacho Daddy Mexico is the premier sports bar and restaurant in Puerto Vallarta. Open daily from 11 am to 12 am for lunch, dinner, live music (with no cover charge!) and lots of fun, this popular south side hangout is located at Basilio Badillo #287, only two blocks off the beach in the heart of the Romantic Zone. Credit cards accepted. For more information, visit NachoDaddyPV.com or become a fan on their Facebook Page for promotions, daily specials and more.Click HERE to learn more about Nacho Daddy Mexico Restaurant & Sports Bar.