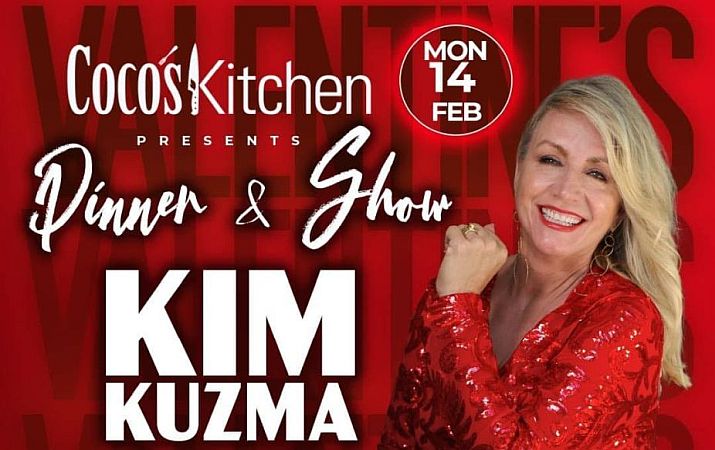 Puerto Vallarta, Jalisco, Mexico – Let's face it, we all are a little curious about the people that we admire. One of those special people in Puerto Vallarta is song diva, Kim Kuzma. Known for her humor, charisma and incredible musical talent, Kim has entertained Vallarta audiences for nearly two decades.
Kim has a fabulous new show, Back to Basics, playing on Saturdays at 8 pm at The Palm Cabaret. She is accompanied on piano by Broadway musician Brett Rowe, as she goes back to her roots with music and artists, that have influenced her throughout her career. Entertaining audiences once again with her humor and appealing vocal style, Kim looks forward to entertaining you with some of your all-time favorite songs.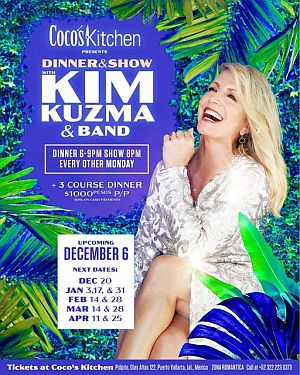 Just one block away, Kim Kuzma and her band (Eduardo Leon, Luis Rascon & Roberto Falcon) present a very special Dinner & Show every other Monday this season at Coco's Kitchen in Zona Romantica. This is a very sophisticated body of songs, with creative mash-ups, soaring vocals and astonishing instrumentals.
Their next show is Monday, Feb 14th, landing on Valentine's Day! This evening to remember begins with the doors opening at 6:00 pm, dinner served at 7:00 pm, and the show starting at 8:00 pm. Make your reservations for this show by dropping by Coco's Kitchen on Calle Pulpito or calling +52 322-223-0373.
Kim Kuzma first landed on the entertainment scene in Puerto Vallarta in 2005 as a result of auditioning for Mark Rome (Entertainment Director for The Palm Cabaret). She has returned every winter, to perform at various clubs and venues throughout this seaside town that offers culture, music and a laid-back attitude. As a result of her many hours of promoting shows, singing for fundraisers and performing on various stages, Kim has become a well-known part of the music scene here.
After years at Club Mañana, Bite Me Beach Club, The Palm Cabaret, The Red Room and 'you name it,' she brought her singing and performing talents back to The Palm for the past six years. Kim has been a big 'draw' with her creative, lively music shows each new entertainment season.
So just how did Kim Kuzma's musical journey get started? Growing up on the West Coast of Canada there was definitely lots of music appreciation in her family. She was encouraged to develop her talents and participated in choir and singing competitions. Kim credits choir with helping her to learn the basics. She joined her first band at 16 and claims that she had very little mic technique and way too much hairspray! After hurting her voice in a rock and roll band, Kim returned from a year in Australia to seriously get back into music.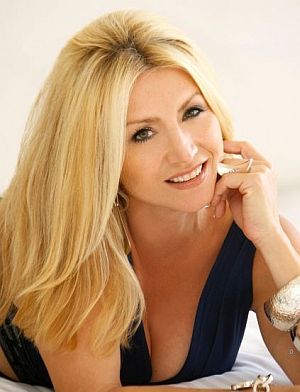 Kim then headed to Vancouver, Canada where she recorded her critically acclaimed, debut CD Contradictions, which quickly climbed the charts for Independent Artists. The CD featured a combination of original and popular music. Kim was voted 'Canada's Best Independent Artist' by fans in 2001 and her CD held the Number 1 spot on HMV Vancouver Indie sales charts for over 7 and a half months. Music became a full-time career for Kim once she started recording 'Contradictions.'
Since that time Kim has toured Europe, the United States, Canada, and Mexico, bringing her music and special brand of humor and stage presence wherever she goes. Since her award-winning CD, Contradictions, Kim has also released 7 other CDs (singles and albums.) which are available on Apple Music and Spotify.
For many years, Kim was constantly traveling and performing. In the last few years, she has divided her time between summers in the beautiful resort town of Ogunquit, Maine and 'her home away from home' Puerto Vallarta, Mexico. Kim has been a constant supporter of animals, LGBT and childrens' charities and has donated much of her time and efforts to these causes.
In addition to her musical career, in 2020 Kim joined the real estate team at Ryan Donner and Associates. Kim recently reflected, "Personally, with being a singer/performer since the age of 16, it was a huge change for me when I challenged myself to get into real estate. When one is known for what they do and suddenly try something completely out of their wheelhouse, it can be daunting to say the least. I can now say, as I keep learning daily, that reaching out and working with Ryan E. Donner at Ryan Donner & Associates was the best decision I could have made."
Kim continues, "I'm busy, I'm selling homes and I LOVE, LOVE meeting new people (always have as well as reconnecting with friends) and assisting them to find their own dream become a reality as well. As I did mine, in a different way."
Coco's Kitchen is located at Pulpito #122, on the south side of Puerto Vallarta.