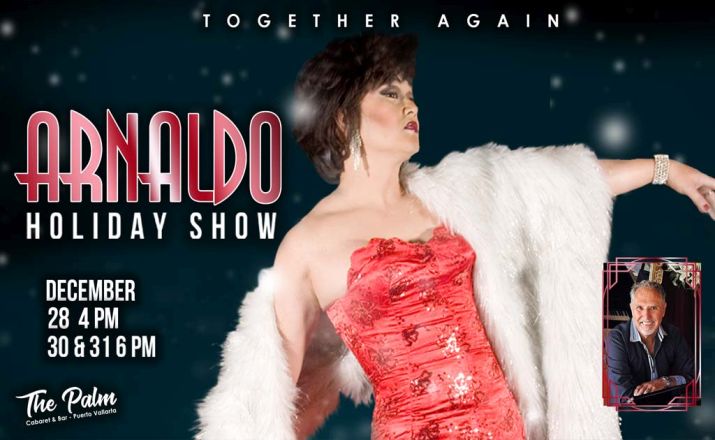 Puerto Vallarta, Mexico – Make Plans Now to see Arnaldo! Drag Chanteuse at The Palm Cabaret. This is the 20th Anniversary Show, first appearing in 2001, and one of the first true New York-Style class cabaret acts to play in Puerto Vallarta! You'll Love This Show which happens on Dec. 28th at 4 pm, Dec. 30th at 6:00 pm and December 31st at 6 pm.
Two decades ago, Arnaldo! Drag Chanteuse, accompanied by musical director Bob Bruneau, brought a new sophistication to the Palm Venue with a classy, New York-style, cabaret act not really seen before in Puerto Vallarta. He filled the house for every show, and made a name for himself here. He came back in 2012, as a guest artist in the fledgling Puerto Vallarta Men's Chorus' first holiday production at Teatro Vallarta under the direction of co-founder Bob Bruneau.
Arnaldo! Drag Chanteuse is a rich mix of pure cabaret fare; Class, Humor, Pathos, Pride and Holiday spirit! Bob Bruneau is once again Arnoldo's musical director. Join Bob and Arnaldo Inocentes as they present well-known music, a few very familiar songs, interesting holiday tidbits, plus lots of humor and fun, and some touching pathos too.
Joan Houston (cousin of Whitney Houston and one of Vallarta's beloved Divas) will guest star for all three shows, December 28th at 4 pm, the 30th and 31st at 6:00 pm. This fabulous show has debuted in NYC, Palm Springs, Los Angeles and Las Vegas and returns to Vallarta for a wonderful encore version at The Palm.
Tickets for all shows can be purchased at the venue's box office at Olas Altas 508, or online at ThePalmCabaret.com. For your safety, the venue has added ventilation, social distancing, masks and reduced capacity. This means you can feel comfortable while enjoying all of the great performances at The Palm.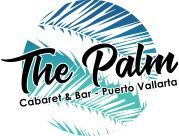 The Palm Cabaret and Bar is located at 508 Olas Altas in the heart of the Puerto Vallarta Romantic Zone. Tickets can be purchased at the venue's box office, which opens daily at 10:00 am, or online at ThePalmCabaret.com.
For more information, click HERE, call (322) 222-0200, visit their website, or follow The Palm Cabaret and Bar PVR on Facebook.