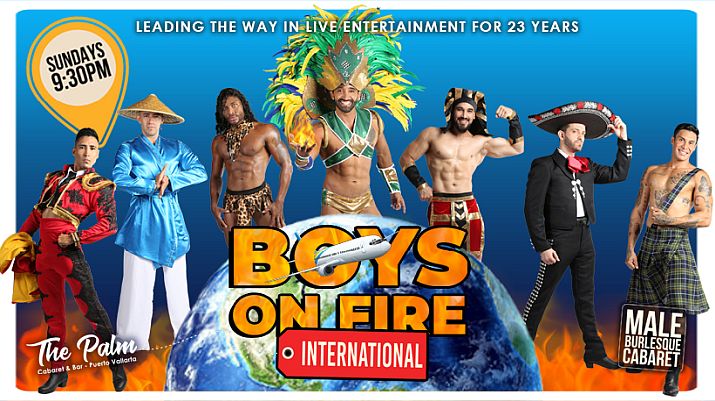 Puerto Vallarta, Mexico – Boys on Fire International Edition is smokin' hot every Sunday at 9:30 pm at The Palm Cabaret. This thrilling show brings together a cast of the finest men from Argentina, Mexico, Venezuela and Columbia in perhaps the sexiest male burlesque show ever featured in Puerto Vallarta.
Sebastian Coronel has once again produced what is definitely the hottest ticket in town. This handsome troupe of dancers, singers and acrobats take you on an enthralling adventure worldwide celebrating beautiful men through music, costumes and dance. These exceptionally sexy, handsome and fit men share their amazing dance skills as they take the audience on an exciting journey around the world with fabulous videos, exceptional choreography and extraordinary costumes.
Emceed weekly by Nacho Granados (My Way), this show will definitely ignite your imagination. Nacho is spectacular as he sings, dances and narrates the performances. His showmanship, humor and gorgeous voice keep the excitement going as he guides the audience through many countries, customs and cultures.
Each show is different because the audience gets to decide some of the countries they would like to see portrayed by these sexy men. In last Sunday's show, we experienced Mexico, Venezuela, India, Argentina, Italy, Spain, Canada and Brazil. From Mariachis to Matadors to Egyptian Pharaohs to pole & sexy lap dances, these fabulous men fired up the audience with their charm, fantastic physiques and erotic moves.
Boys on Fire also helps to fund 2 local children's charities and raises money through a nightly auction of their calendar, audience donations and the retail sale of their yearly calendar. They even feature a beautifully, choreographed video of the men during one segment of the show.
This season, Boys on Fire has added the beautiful and talented female dancer, Michelle, to their cast of male performers, including Sebastian (Argentina), Nacho (Argentina ), Eddie (Colombia), John (Venezuela ), Ángel (Mexico ) and Juan Pablo (Mexico).
Weekends are smoking hot at The Palm Cabaret with Boys on Fire International taking the stage every Sunday at 9:30 pm. This sexy, professionally choreographed and musically exciting performance will fire up your weekend with pleasure. Don't miss these gorgeous and well-trained dancers in this season's newest, male burlesque cabaret show. Parental guidance is suggested.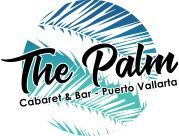 The Palm Cabaret and Bar is located at 508 Olas Altas in the heart of the Puerto Vallarta Romantic Zone. Tickets can be purchased at the venue's box office, which opens daily at 11:00 am, or online at ThePalmCabaret.com.
For more information call 322-222-0200, visit their website, or follow The Palm Cabaret and Bar PVR on Facebook.