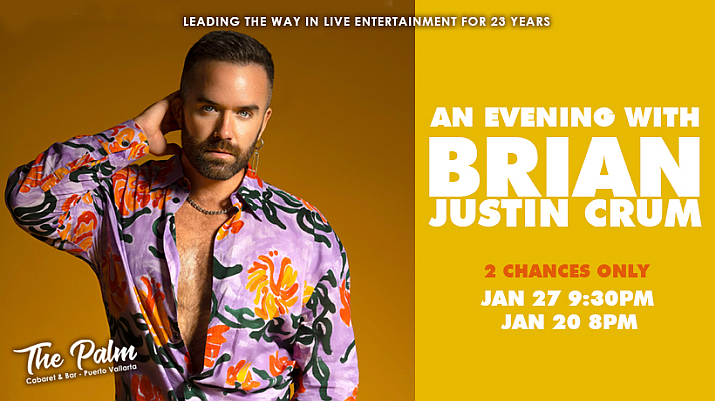 Puerto Vallarta, Mexico – Brian Justin Crum of Broadway and TV's America's Got Talent fame, opened his show last Friday night at The Palm with a packed house. Brian's shows are always popular wherever he performs because he is a man with a message (of equality, love & acceptance) and is gifted with one of the finest voices you'll ever experience.
Brian opened his show with a powerful version of Somebody to Love and went on to give us a little history of his life and career. Best known as an America's Got Talent finalist, Brian is so much more than this. His Broadway debut happened at age 17 in the hit Broadway show, Wicked and before the age of 25, he had roles in 5 major Broadway productions.
Brian's move to Los Angeles and a popular singing career took him away from his Broadway roots for a while but he has since returned with the show, The Wizard and I. While in L.A., Brian also starred in Queen's We Will Rock You production, even performing on stage with the original band members. And he amazed us with an incredible interpretation of Queen's I Want to Break Free during this performance.
While a contestant on AGT, Brian was able to share with the nation his story about growing up as a little fat, gay boy who felt awkward and alone. His rendition of the song Creep was fitting for someone who struggled to fit in.
Life after AGT has included writing and recording new songs, performing in clubs and venues across the country and more recently, being asked to Headline the New America's Got Talent Superstar Show in Las Vegas, which will be coming soon. Brian has also created a show with some of his friends in L.A. called Revery, which showcases the talents of Queer Artists.
As the night continued, Brian shared the powerful, moving song The Joke by Brandy Carlyle, to which we all felt a bit teary-eyed. He closed with a finale of What's Goin' On? and was coaxed back with thunderous applause and a standing ovation to do one of his original numbers.
There's only one more show and it's probably nearly full, but check with The Palm Cabaret and you might just get a lucky ticket to hear this unbelievably talented man. I, for one, was simply stunned by his talent and his wonderful inclusive message. Believe me when I tell you that you won't be disappointed.
Brian's final show at The Palm Cabaret happens on Friday, January 27th at 9:30 pm. This is a MUST-SEE performance for all those who enjoy incredible talent!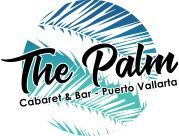 The Palm Cabaret and Bar is located at 508 Olas Altas in the heart of the Puerto Vallarta Romantic Zone. Tickets can be purchased at the venue's box office, which opens daily at 11:00 am, or online at ThePalmCabaret.com.
For more information call 322-222-0200, visit their website, or follow The Palm Cabaret and Bar PVR on Facebook.