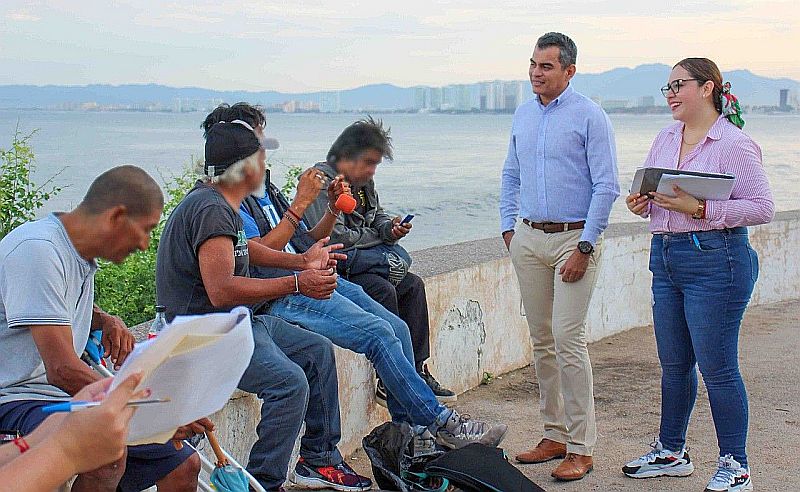 Puerto Vallarta, Mexico – Living up to their promise to serve the vulnerable in our community, on Tuesday, authorities from DIF Puerto Vallarta, Citizen Security and the Jalisco Regional Prosecutor's Office toured the Romantic Zone and the Emiliano Zapata neighborhoods to find and offer assistance to homeless people.
In this fourth inter-institutional humanitarian tour of the city, twenty-two indigent were identified and offered comprehensive support and social assistance.
During the operation, members from the Social Services area, Child Protection Coordination and the Legal Area Coordination, approached homeless people in Lázaro Cárdenas park, on the Isla del Río Cuale, along the Malecón, and neighborhood streets, asked about their situation and, when deemed necessary, were invited to receive support.
Of the twenty-two people determined as indigent, one of them referred to being from another state and agreed to accept help. In order to prevent continued exposure, and give him a better quality of life, he was provided with food support and given the proper document to expedite his transfer home.
In this regard, the director of the DIF System, Roberto Ramos Vázquez, stated that these humanitarian tours will be maintained throughout the municipality, seeking to reduce the rate of homeless people and have an updated census; as well as continue working on a comprehensive project in coordination with the different departments in order to provide better living conditions and guarantee the rights of people living in poverty.
It should be noted that various situations were detected in the homeless during the humanitarian tour, including mental health problems, the consumption of illicit substances, alcoholism, abandonment and lack of opportunities, which, once identified, were referred to the corresponding departments for help.
Source: Reporte Diario